Description
Clarett+ 4Pre is the compact, flexible interface designed to bring pure analogue sound to all your instruments.
The four Clarett preamps have been meticulously engineered to bring authentic large-format studio sound to any recording space. All-analogue Air mode, with impedance switching, recreates the legendary effect of Focusrite's ISA mic pres, adding clarity and presence to any recording. Two high-impedance JFET instrument inputs preserve your guitar's true character and feel just like an amp. Independent A-D and D-A converters offer ultra-low distortion and up to 124dB dynamic range. Four balanced outputs are hum-free for pristine monitoring, mixing and mastering with studio monitors. Eight input channels of ADAT allow 4Pre to expand for any recording session. And it comes with some of the best-loved tools in the business – with plugins from legendary Auto-Tune® creators Antares®, Brainworx®, Softube®, Landr, XLN Audio®, Relab and more.
Eight inputs, four outputs; four Clarett mic pres, two Hi-Z JFET instrument inputs, four fixed line inputs, four balanced outputs and eight input channels over ADAT.
All-analogue Air mode, with impedance switching, adds presence and clarity to your recordings, recreating the legendary character of the ISA.
Low distortion, 24-bit/192 kHz converters with up to 124dB dynamic range deliver incredible sound quality.
Two powerful, flat-response headphone outputs make mixing easy in any environment, with any headphones.
USB-C connectivity, compatible with MacOS, Windows and iPadOS.
Includes Ableton Live Lite, three months of Pro Tools Artist, and the Hitmaker Expansion, with plugins from Antares, Softube, Landr, XLN Audio and more.
Three-year warranty and award-winning customer support for life.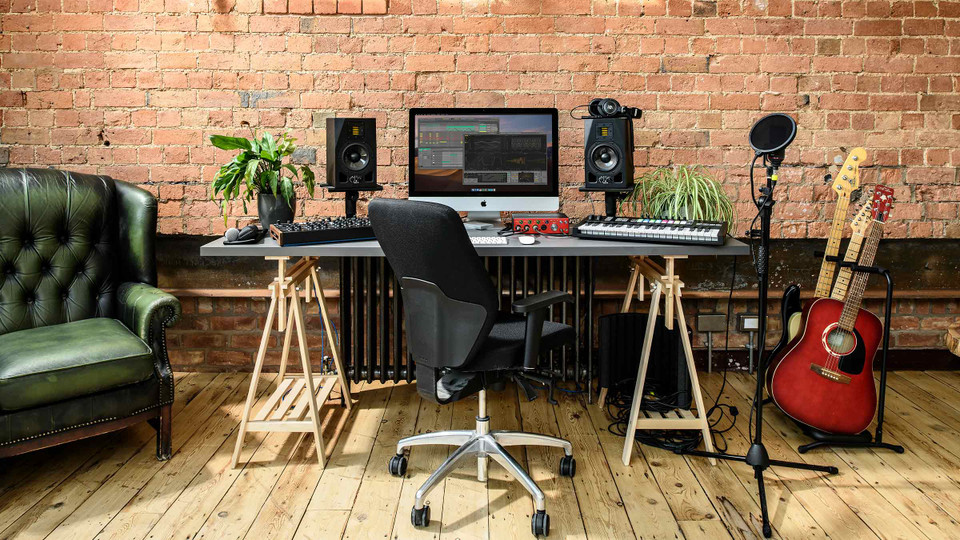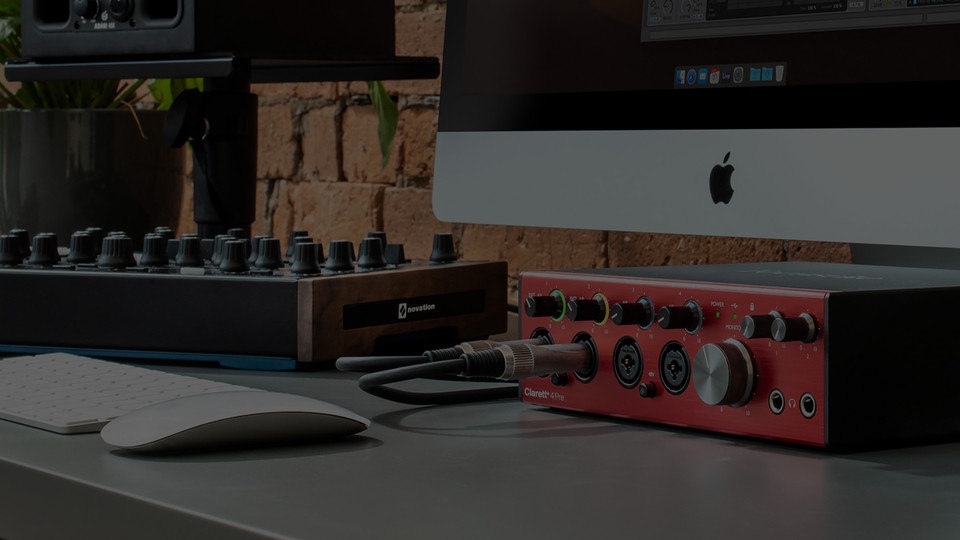 Clarett⁺ mic preamps
Four high-headroom, low-noise, low-distortion Clarett+ mic preamps — featuring All-analogue Air with impedance switching and relay control — capture vocals, drums and acoustic instruments with immense clarity. Two JFET instrument inputs let you plug straight in and preserve the natural tone of your guitar, just like plugging into an amplifier.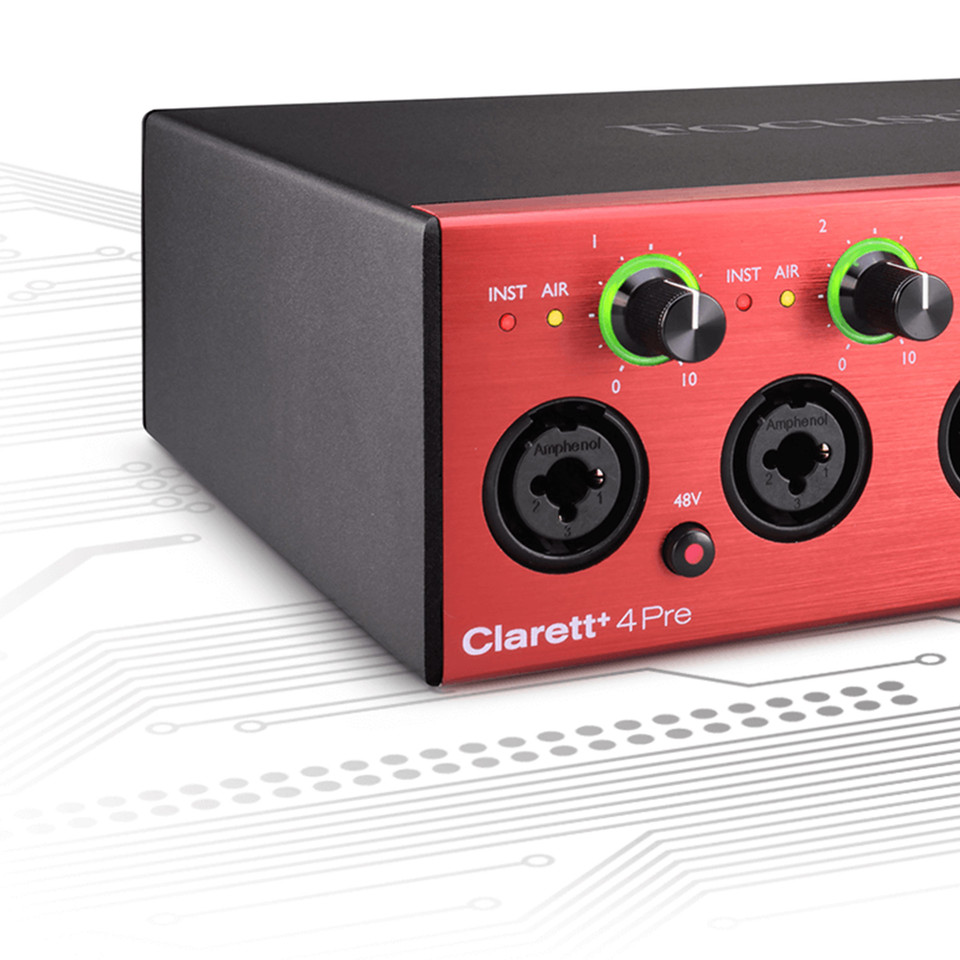 Independent A-D and D-A converters
Independent A-D and D-A converters bring creators and collaborators closer than ever to their music, with extremely wide dynamic range and low distortion. Greatly improved D-A dynamic range enables you to hear every detail and have greater control over your mix. Incredibly low A-D converter distortion lets you capture signals with more clarity, for greater transparency and sonic accuracy. Two powerful and true-to-life headphone outputs inspire artists to hear every nuance, customise their foldback mix, and perform their best.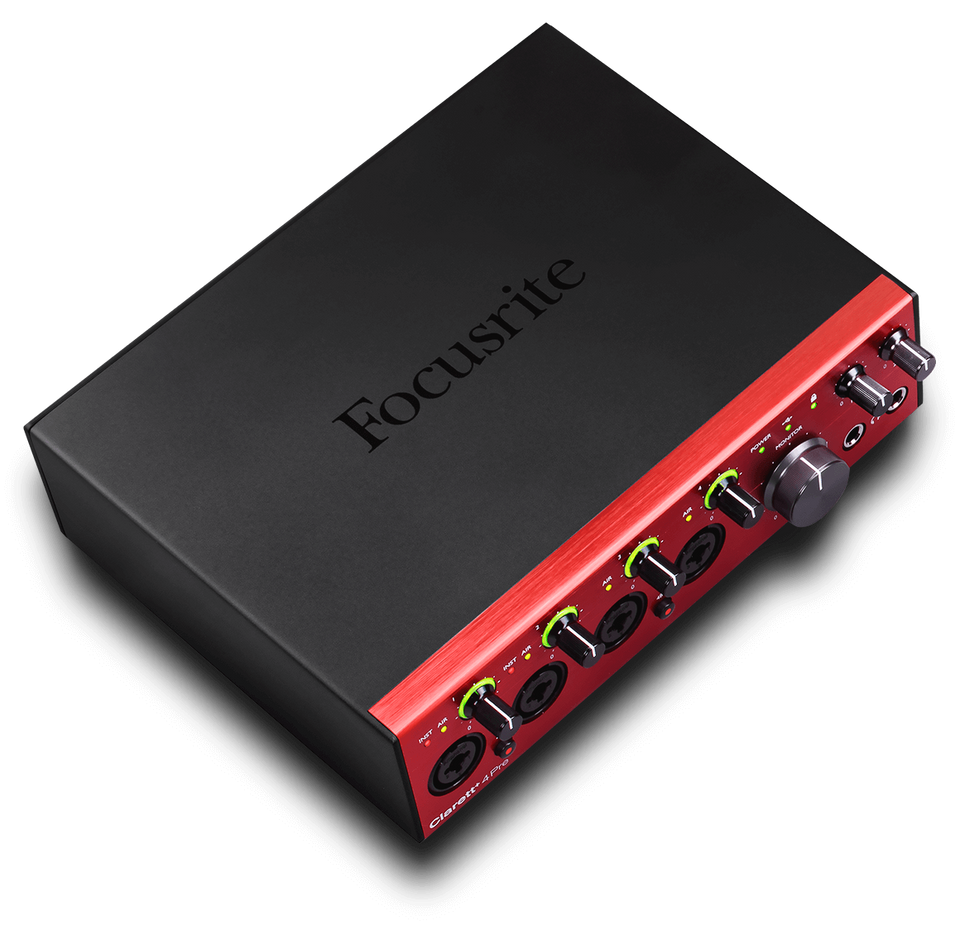 Anything, anywhere
Clarett+ 4Pre brings collaborators together, with options to record up to 18 input channels simultaneously. Expand via ADAT using the Clarett+ OctoPre or other outboard hardware. Four analogue outputs and MIDI input and output makes Clarett+ 4Pre the centrepiece of the evolving recording studio.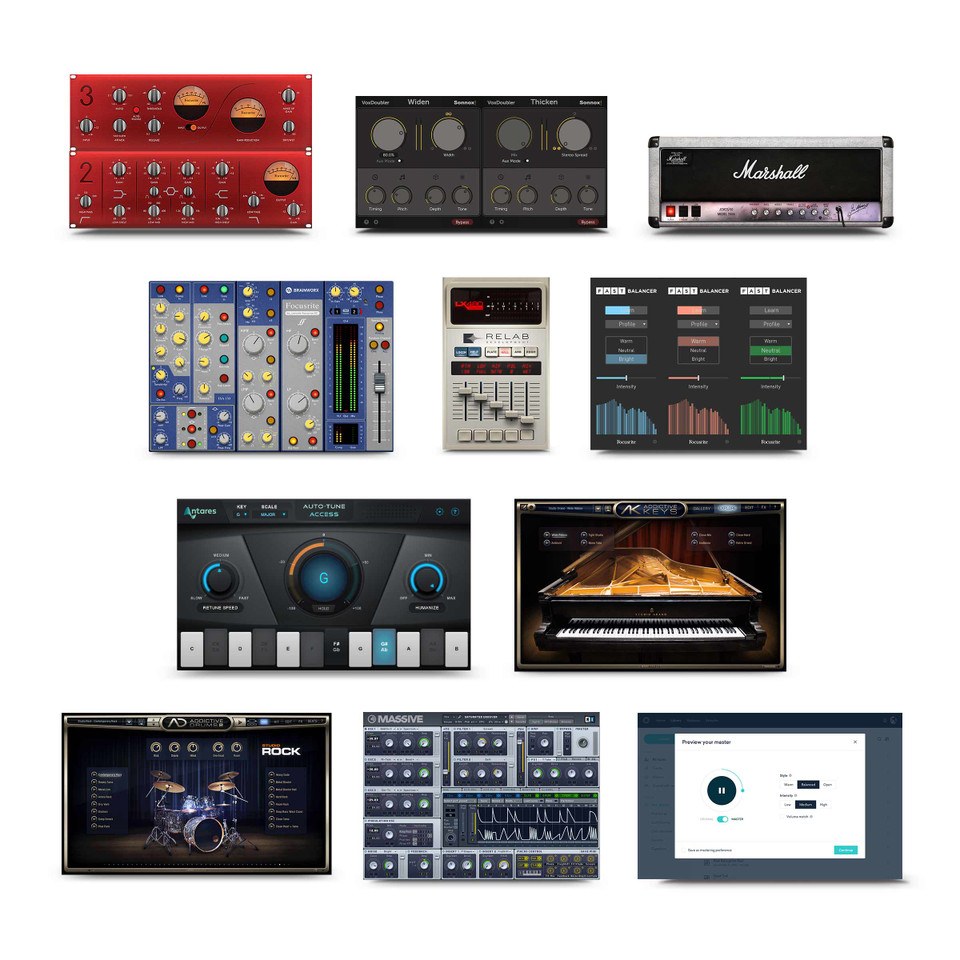 Hitmaker Expansion
Create studio-quality vocals, powerful guitars, dramatic synths, and huge drums, then mix and master with iconic Focusrite studio hardware — all in the box. Every new Focusrite Scarlett, Clarett+, and Red interface comes with an unbeatable range of tried-and-tested studio tools from some of the biggest names in the business.

Whether you're a guitarist, singer-songwriter, beatmaker, or aspiring producer, Hitmaker Expansion has been compiled to get you release-ready results from your very first session. These are all the plugins you'll need to write, record, mix and master your music with big studio sound.

Hitmaker Expansion features exclusive content from legendary Auto-Tune® creators Antares®, along with Native Instruments®, Brainworx®, Softube®, Landr, XLN Audio®, Relab and more.
Discover Hitmaker Expansion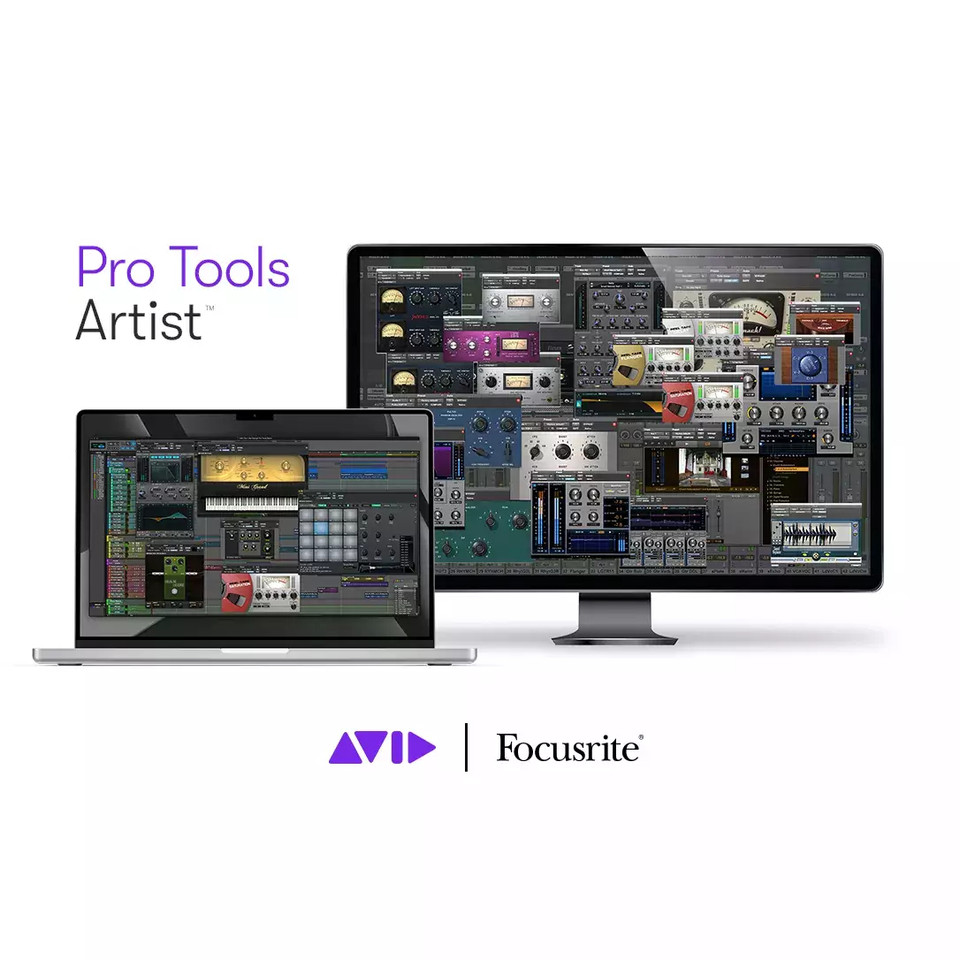 Three-month Avid Pro Tools Artist and Complete Plugin Bundle subscription
Produce bigger and better studio-grade tracks with Pro Tools Artist and the Complete Plugin Bundle, with all the effects and plugins you will need to write, mix, and master your productions.

At the end of the three-month subscription, you can purchase an annual subscription with 25% off Pro Tools Artist or 33% off Pro Tools Studio. Both plans include the Complete Plugin Bundle, which contains over 75 plugins including dynamic and EQs, effects and emulators, reverbs and delays, stompboxes, and virtual instruments.
Discover Pro Tools Artist
Specifications in detail
Mic inputs
Frequency Response 20-20kHz:

± < 0.03dB

Frequency Response 20-35kHz:

± < 0.15dB

Dynamic Range (min gain):

118dB

THD+N (-1dBFS, +20dB gain):

-110dB

Noise EIN:

-129dBu

Max input level:

18dBu

Gain range:

+57dB
Instrument inputs
Frequency Response 20-20kHz:

± < 0.04dB

Frequency Response 20-35kHz:

± < 0.15dB

Dynamic Range:

116dB

THD+N (-1dBFS, min gain):

-96.5dB

Max input level:

15dBu

Gain range:

+57dB
Line inputs (variable)
Frequency Response 20-20kHz:

± < 0.05dB

Frequency Response 20-35kHz:

± < 0.15dB

Dynamic Range (min gain):

118dB

THD+N (-1dBFS, min gain):

-100dB

Max input level:

26dBu

Gain range:

+57dB
Line & monitor outputs
Frequency Response 20-20kHz:

± < 0.02dB

Frequency Response 20-35kHz:

± < 0.02dB

Dynamic Range:

124dB

Max Output level:

18dBu

THD+N:

-106dB
Line inputs (fixed)
Frequency Response 20-20kHz:

± < 0.05dB

Frequency Response 20-35kHz:

± < 0.15dB

Dynamic Range:

118dB

THD+N (-1dBFS):

-100dB

Max input level:

+18dBu
Headphone outputs
Frequency Response 20-20kHz:

<0.06db< span>0.06db<>

Frequency Response 20-35kHz:

<0.07db< span>0.07db<>

Dynamic Range:

118dB

THD+N:

-104dB

Max Output level:

16dBu