Hitmaker Expansion
Turn your ideas into records
Wherever you make your music, Hitmaker Expansion has the essential tools that bring big studio sound to your songs.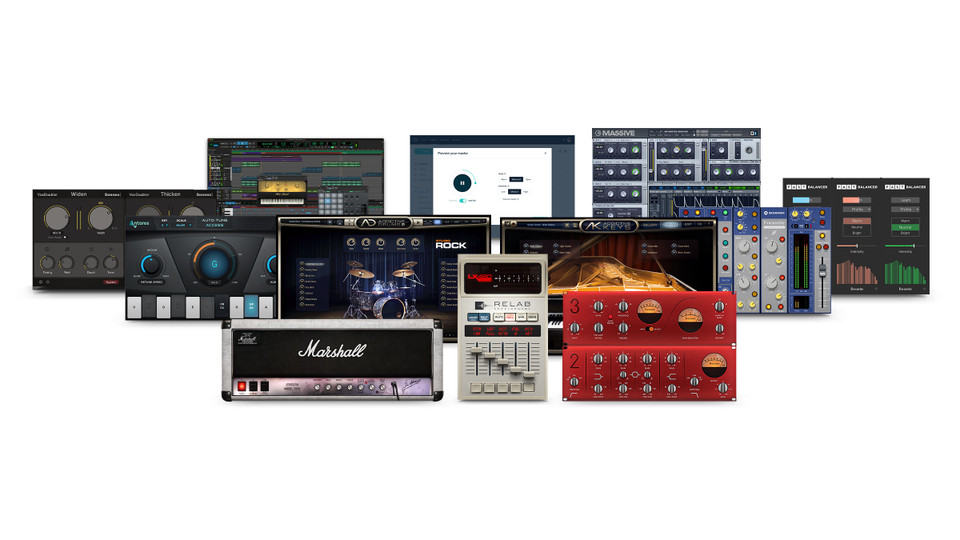 Create studio-quality vocals, powerful guitars, dramatic synths, and huge drums, then mix and master with iconic Focusrite studio hardware — all in the box. Every new Focusrite Scarlett, Clarett+, and Red interface comes with an unbeatable range of tried-and-tested studio tools from some of the biggest names in the business.
Whether you're a guitarist, singer-songwriter, beatmaker, or aspiring producer, Hitmaker Expansion has been compiled to get you release-ready results from your very first session. These are all the plugins you'll need to write, record, mix and master your music with big studio sound.
Download Hitmaker Expansion
For Vocals

Antares® Auto-Tune® Access allows everything from natural sounding, near-real-time pitch adjustment for getting the best vocal takes — to lightning-fast Hip-hop-inspired pitching for adding a whole new sound to your tracks. What's more, you won't get Auto-Tune Access included with any other interface — get the original and best exclusively with Focusrite.

For Vocals

Relab's LX480 Essentials provides four reverbs, modelled on The Hit Factory NYC's reverb unit, and used on countless hits. LX480 Essentials gives you the sounds of a studio which has played host to names from Springsteen, the Stones and Kool and the Gang, to The Weeknd, Pharrell, Katy Perry, and everyone in between.

For Vocals

Take the fast track to great sounding, standout vocals. Doubling a recorded vocal is a great way to bring contrast, drama and presence to your songs. Sonnox VoxDoubler makes it easy, with two distinct plugins that focus on widening and thickening, the most common vocal doubling techniques. Bring a professional sheen to your productions while preserving a perfectly natural sound.

For Guitar

Time to heat up your guitar tones. Plug in and fire up a hyper-realistic model of Marshall®'s Silver Jubilee 2555 — brought to you by analogue-modelling experts Softube®. This powerhouse amp model serves up everything from warm cleans, through to classic crunch, and up to modern high-gain tube amp sounds.

For Keys

Add great sounding piano to your tracks with the XLN Audio® Addictive Keys Studio Grand, based on the iconic Steinway® Model D. Plug in your MIDI controller and play; you'll be instantly transported to a professional recording studio set up to capture this beautiful piano.

Add Synth

Want to add some real drama to your track? MASSIVE from Native Instruments® is all about the BIG synth sounds — from huge bass to scorching leads. This high-end engine delivers stunning quality and an expansive universe of sounds to power and inspire your music. If deep-diving into synthesis is not on your radar, there are over 1,300 production-ready presets that you can use as is, or fine-tune to perfection.

Add Drums

Add the sounds of a pro drummer to your songs easily. XLN's Addictive Drums 2: Studio Rock Kit features expertly captured samples from high-end Tama® and Pearl® drums, and Paiste® and Sabian® cymbals, recorded at Decibel Studios in Stockholm. You can also add beats to get you started and mix your drums quickly with high-quality effects right in the plugin.
Mix with the Pros
When your song's ready to go to the next level, so are you. Focusrite's best-known studio outboard is now available anywhere, with Brainworx bx_console Focusrite SC and our own Red 2 & 3 Plugin Suite.
Pairing your Focusrite interface with these two incredible plugins puts the very heart of Focusrite in your hands. With this powerful combination, you can make records with the sounds and technology that have featured on hit records, used by some of the biggest artists over our 30-year history. It has never been easier to make studio-quality records at home than it is today with Scarlett.
Bx_console Focusrite SC

Bx_console Focusrite SC brings the true sound of the preamps that made Focusrite what we are today to your music. No other plugin offers the unique character of the iconic large format console, with ISA 110 preamps — the origin of the famous 'Air' we still hear on Focusrite interfaces today. Bx_console Focusrite SC is a full channel strip, offering EQ, de-esser, compressor, limiter, gate, and expander. The plugin also features Brainworx's patented 'TMT, to dial in as much or as little analogue character as you want.

Red 2 & 3 Plug-in Suite

Red 2 & 3 Plugin Suite features a pair of meticulously captured digital models of the truly iconic EQ and Compressors which have made the Focusrite name a staple in world-class facilities across the globe. If you've kept up with major releases over the last 30 years, you've heard Red 2 and 3.

FAST Balancer

When you want to fast-track to a solid mix, FAST Balancer accelerates the mixing process. The powerful AI listens to your instrument or vocal tracks and serves up three selectable options to enhance the track and help them shine in the mix.

Master Your Music

Produce and release your best work with Landr. Every Scarlett, Clarett+, and Red interface comes with a two-month subscription to Landr Studio, as well as five free masters you can use even when your two-month trial is over. Landr Studio provides everything you need to mix and master your tracks, including unlimited MP3 mastering, and unlimited distribution on streaming platforms such as Spotify, Apple Music, YouTube Music, TikTok, and many more.
How to get great guitar recordings with Hitmaker Expansion
Find out how to get great electric and acoustic guitar sounds using Focusrite Scarlett and the included software from the Hitmaker Expansion bundle, including Softube®'s Marshall®'s Silver Jubilee 2555, the Relab LX480 Essentials Reverb, Focusrite Red 2 & 3 Plugin Suite, and more.
How to get great vocal recordings with Hitmaker Expansion
Find out how to record and produce album-ready vocal tracks using Focusrite Scarlett and the included software from the Hitmaker Expansion bundle, including Antares® Auto-Tune® Access, the Relab LX480 Essentials Reverb, Sonnox VoxDoubler, Focusrite Red 2 & 3 Plugin Suite, and more.
Recording a song with Scarlett and Hitmaker Expansion
John uses his Scarlett Solo and the plugins included with Hitmaker Expansion to build a track from scratch, taking a rough song idea to a polished mix.
For Scarlett 4th Gen, Scarlett 3rd Gen, Clarett+, Clarett USB and Red interfaces purchased and registered on or after July 1st 2023, the Hitmaker Expansion is added to your account for free.
All product names and brands cited herein are property of their respective owners. All company, product and service names used on this page are for identification purposes only. Use of these names, logos, and brands does not imply endorsement.