70dB gain range

Two mic in and headphone outs

Bluetooth phone connectivity

Auto Gain

Mute button

Four voice presets
Description
Key Features
Broadcast-quality sound — Get studio sound in seconds from Vocaster's high quality mic input and microphone.
Over 70dB of gain — Get the best out of any mic, no booster needed.
Auto Gain — Set your level in seconds, just push the button, start talking, and let Auto Gain do the rest.
Enhance — Select one of three podcaster-approved presets and reveal the true quality of your voice.
Two mics, two headphones — Vocaster Two gives both presenters their own headphone output and Show Mix.
Mute — Just hit the button and cut out coughs, sneezes and any other unwanted interruptions.
Bluetooth Phone Connectivity — Connect your phone via Bluetooth or with a single TRRS cable and capture the whole conversation, or play music and other high quality audio from your device straight onto your show.
Camera Connectivity — Send Vocaster's high quality audio straight to your camera with a single TRS cable and level-up your vlog.
Stereo Loopback — Grab audio from your computer and stream straight onto your show. Great for intros, outros, music and more.
Easy Start — It's never been easier to get recording. Focusrite's tried-and-tested Easy Start tool will have you on air in minutes.
All the tools you need —

Includes Hindenburg Lite, and six months of Acast Influencer.

Vocaster Hub — Set your levels, enhance your sound, route audio from your phone and computer, and hear your Show Mix.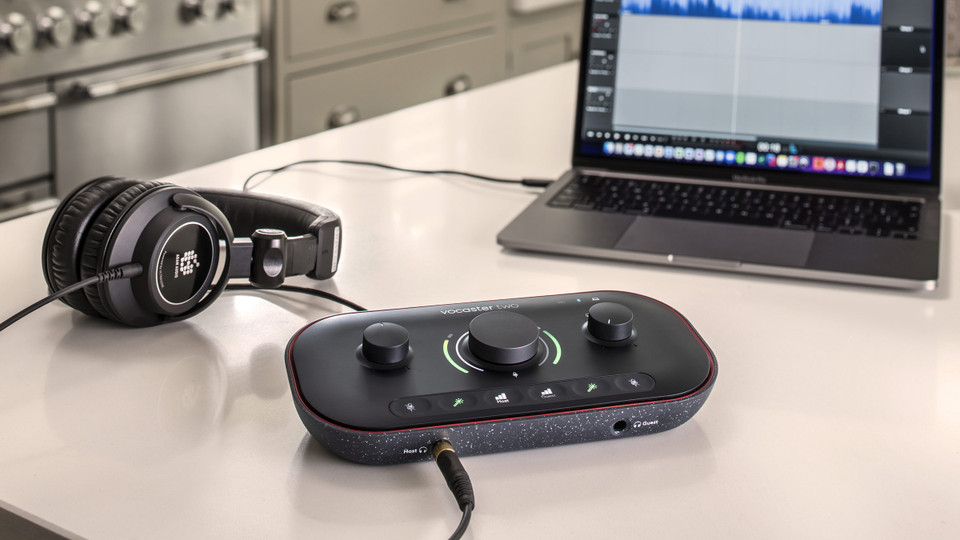 Effortless. Broadcast sound.
Cut it out!

Don't let coughs and sneezes — or any other unexpected interruptions — mess up your podcast. Hit the mute button and silence the mic until you're ready to go again.

Find your voice

The Enhance button reveals the true quality of your voice. Four podcaster-approved presets bring out the best in any voice in one click, and you can customise your own with Vocaster Hub.

Studio sound in seconds

Auto Gain sets your levels with the click of a button, with more than enough gain on tap for the most popular broadcast mics — no booster needed.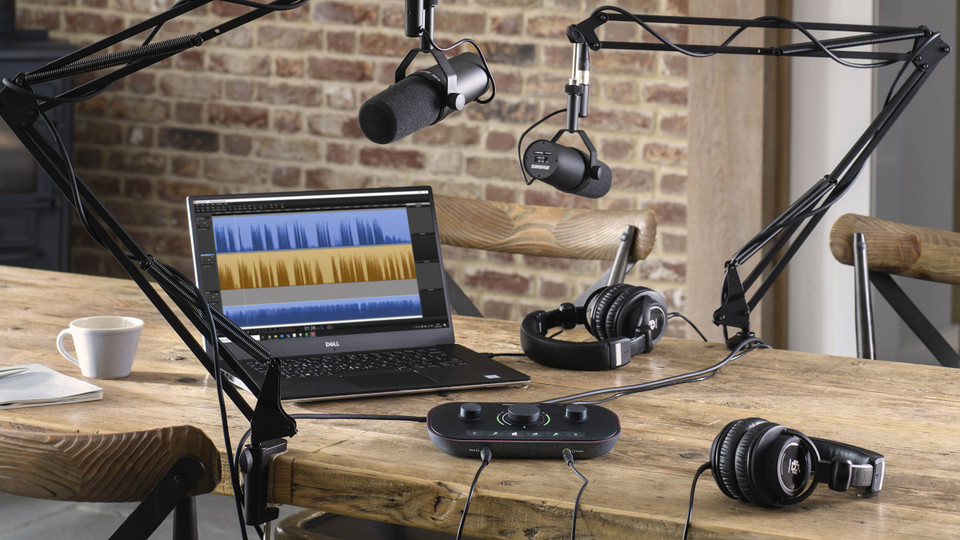 Take it away
Vocaster Two is small, light, and powered by your computer, so you can join the conversation wherever it is.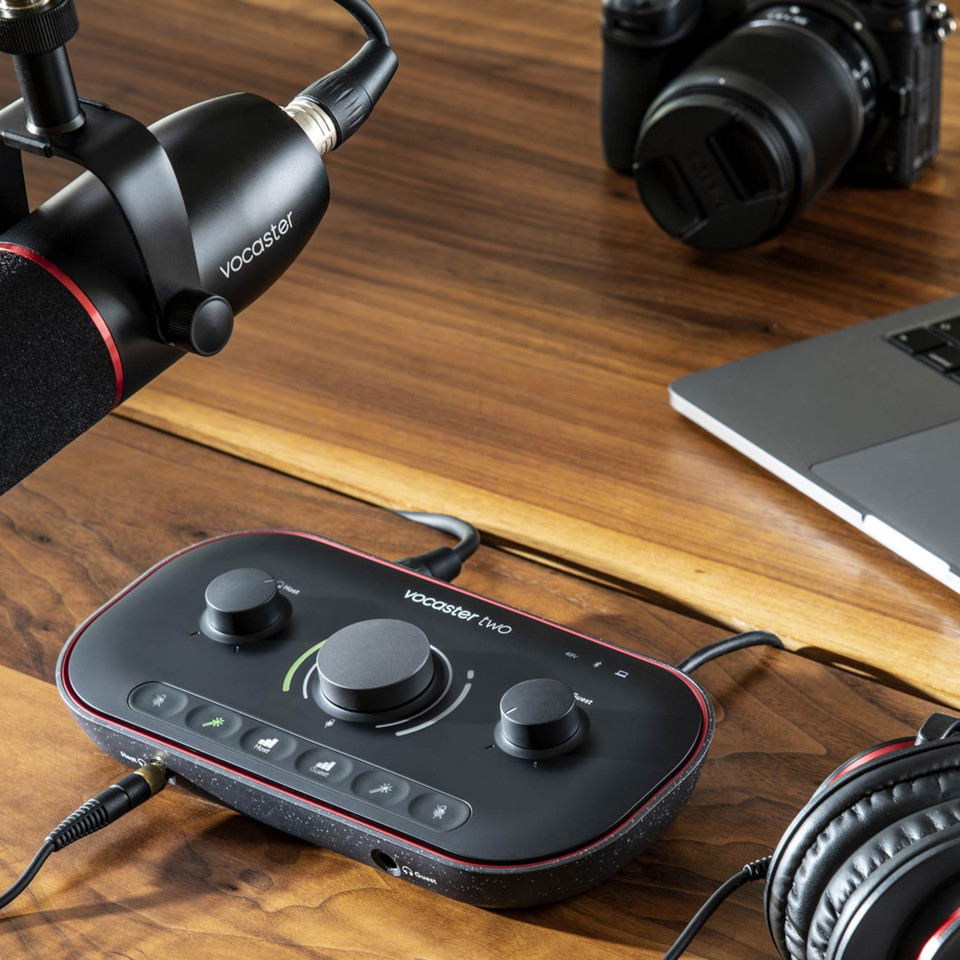 Sound as good as your video looks
You're one cable away from adding Vocaster's studio sound to your vlog. No need to sync up in post, just plug in and hit the red button.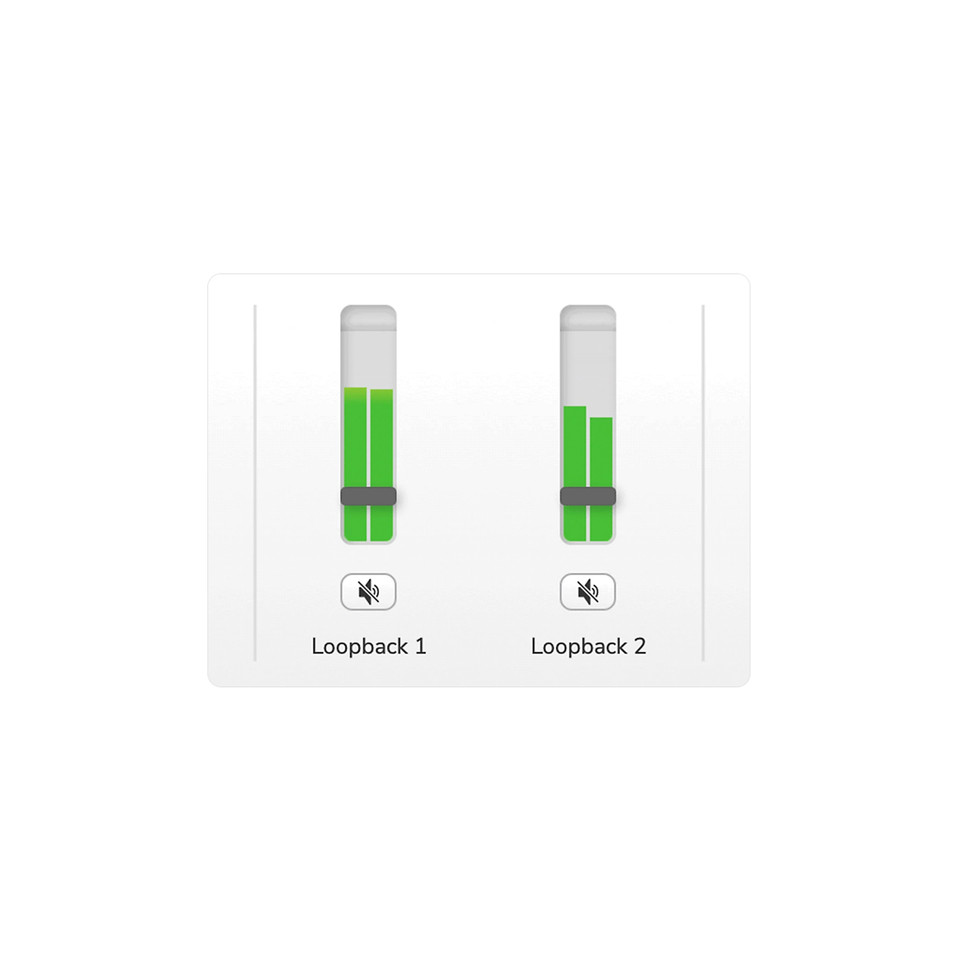 Add a professional touch
Stream pre-recorded segments such as intros, outros, calls or any other audio you can think of from your computer with two sets of stereo loopback. Keep the story going and sound just like you're in a broadcast studio.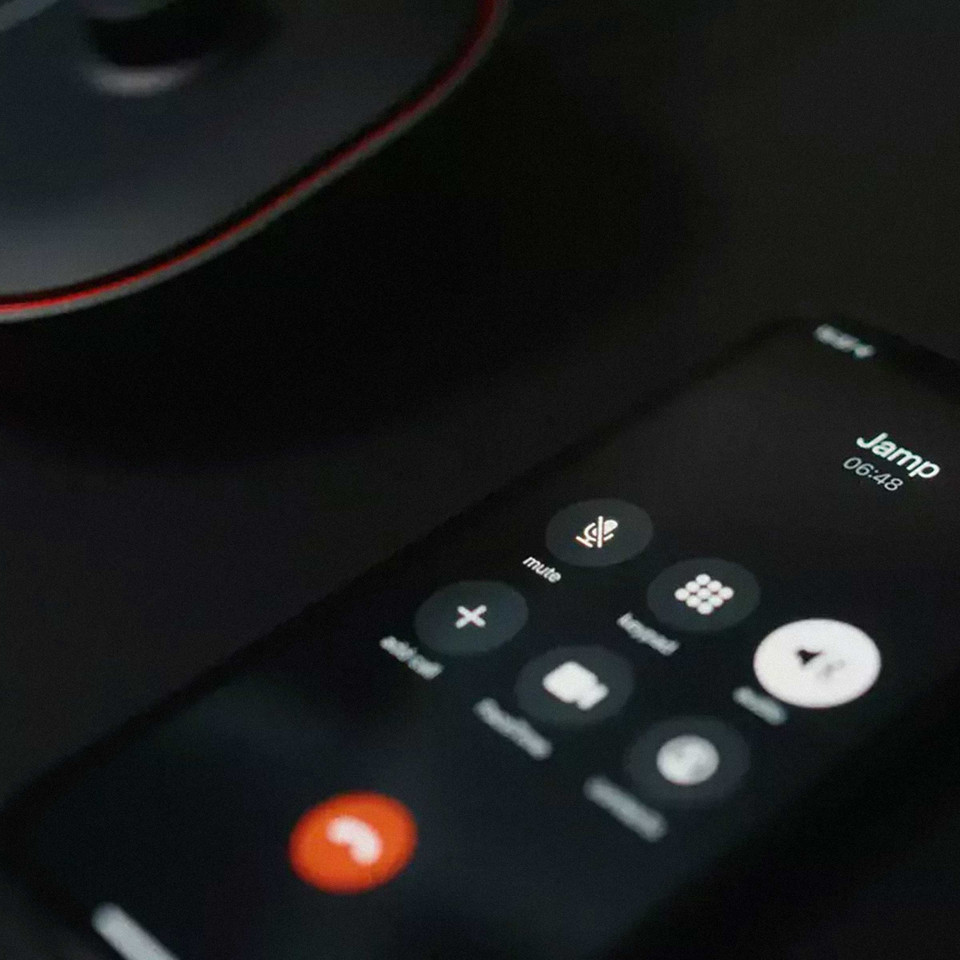 It's your call
Bring in guests over the phone with Bluetooth or a single cable and capture the whole conversation, or record high quality music or other audio from your device, seamlessly.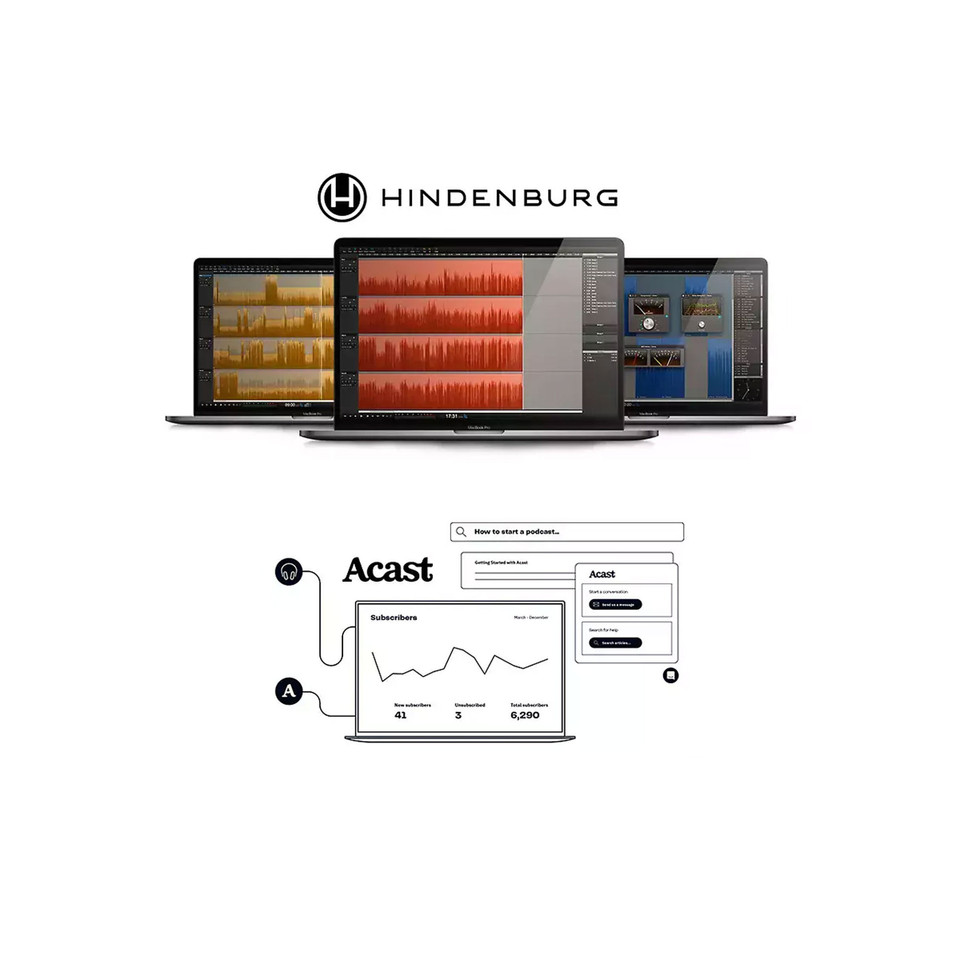 Everything you need
With Hindenburg LITE to record, and six months of Acast Influencer to publish, you're ready to get your show out there. If you're new to Hindenburg, you can also try Hindenburg PRO for six months, free.
Your very own control room
Get your show sounding great with Vocaster's mixer. Just like a broadcast studio, Vocaster Hub lets you set your levels, enhance your sound, route audio from your phone and computer, and more. Use Enhance Edit to open up greater control of the Compression, EQ, and Rumble Reduction for each preset. Hear exactly what your listeners will hear with Show Mix – even without your computer.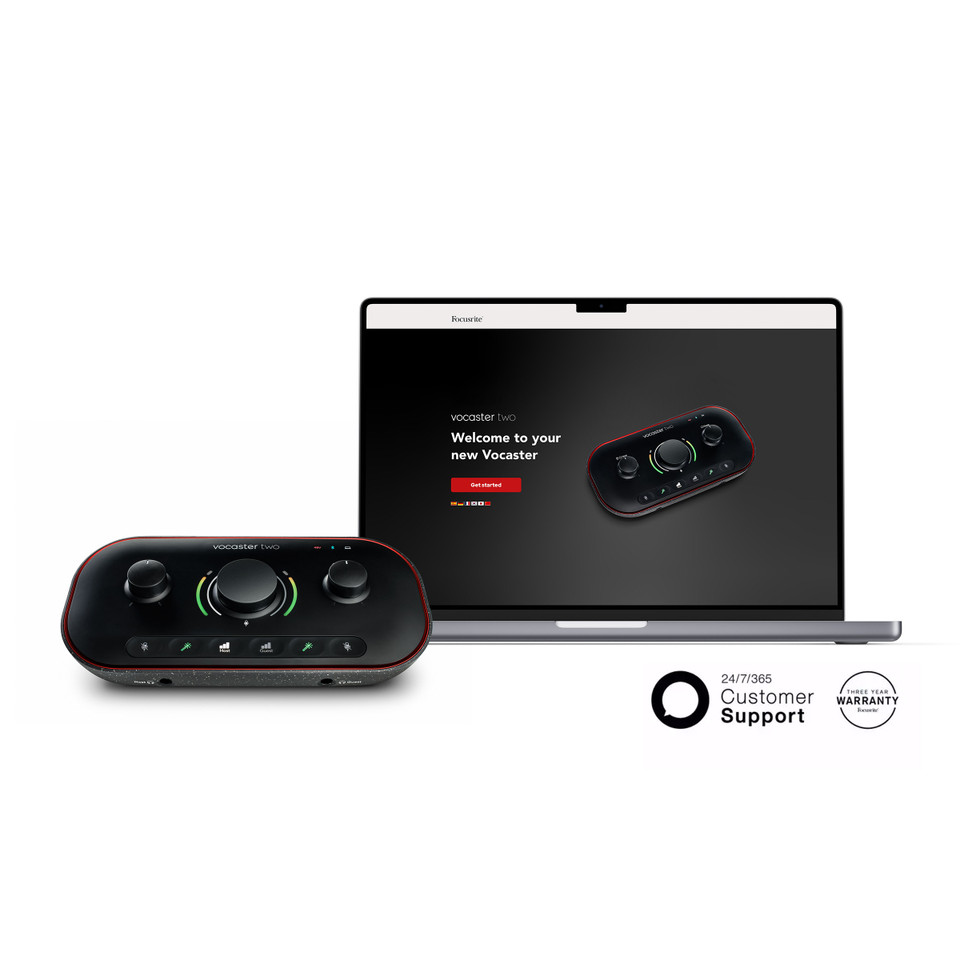 It's never been so simple
Our Easy Start tool is the best in the business and gets you up and running smoothly. Vocaster is so easy to set up, you'll be on-air in no time. Three years of warranty and our award-winning 24/7/365 support keep you there.
Better for everyone
With Vocaster, we've taken big steps forward in reducing the impact our interfaces have on the planet. We have carefully chosen components, biodegradable and recyclable packaging, and used more than half the plastics from recycled sources.
Vocaster Hub works with screen readers allowing control of Vocaster's key features, so there are more ways to get on air than ever before.
Simple setup for two-person podcasts

Connect Vocaster to your computer through USB-C to record into the recording software of your choice, and access Vocaster Hub to customise your sound. Vocaster Two is perfect for a two-person podcast, simply use the Host and Guest XLR inputs for your microphones, and connect your headphones to the Host and Guest output at the front of the interface to avoid any feedback or echo.

Complete setup for two-person podcasts, streaming, and vlogging

Expanding on the simple setup, you can use the two loopback channels via your computer to bring in any audio, and connect your monitors, DSLR camera, and mobile phone. Vocaster Two is perfect for a two-person podcast and if two people are streaming or vlogging. You can mix and edit your audio, record broadcast-quality audio straight to your video or live stream, and call in guests or bring in other sound sources through your device. Bluetooth connectivity enables you to use any device as a soundboard for your content.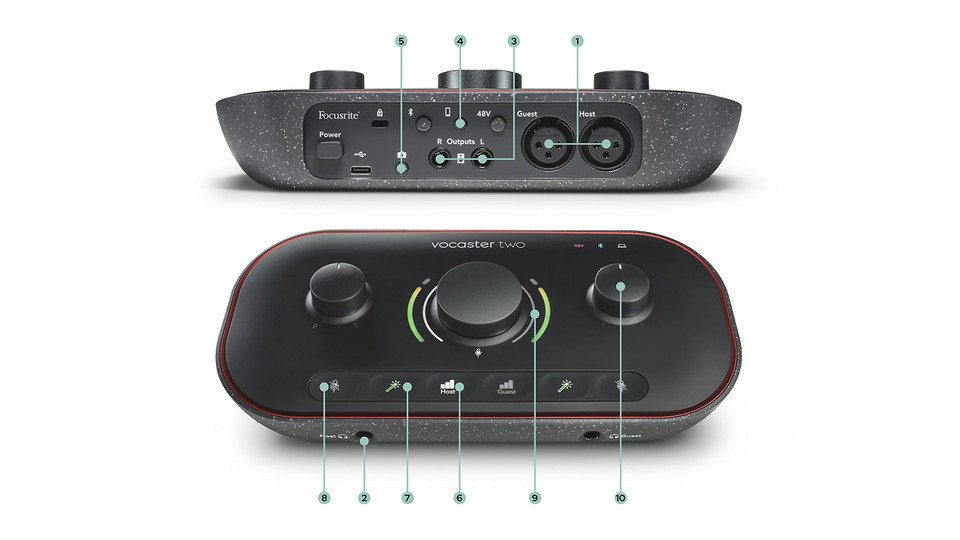 1. Mic inputs

Connect any microphone via an XLR cable (included with Vocaster Two Studio). 70dB gain range and phantom power control.

2. Headphone outputs

Connect your headphones to hear your show mix as the world will.

3. Speaker outs

Connect to your speakers in mono or stereo to Vocaster when you're editing your podcast.

4. Phone input

Allows you to bring audio in from your phone, including called-in guests. (TRRS to TRRS cable required, not included.)

5. Camera output

Record your professional podcast audio straight into your camera to make life easy with your footage. (TRS to TRS cable required, not included.)

6. Auto Gain

Hold down the host or guest button to have Vocaster listen in and set the correct audio level, so you're ready to record.

7. Enhance

Bring out the best of your voice in one click with a choice of four voice presets, switchable within Vocaster Hub.

8. Mute 

Quickly mute to avoid interruptions with separate buttons for host and guest.

9. Mic gain

The coloured gain ring gives you instant visual feedback when your voice level is perfect for host and guest.

10. Volume control

Keep your volume in check.
Specifications in detail
Inputs
Number of mic inputs

2

Mic input gain range

70dB

Mic input frequency range

20Hz – 20kHz
Connectivity
Phone input and output

Stereo. Requires 3.5mm TRRS cable, not included

Camera output

Stereo. Requires 3.5mm TRS cable, not included

Bluetooth

v5.0



*Requires 900mA USB port
Outputs
Number of headphone outputs

2

Headphone output frequency range

20Hz – 20kHz

Speaker output frequency range

20Hz – 20kHz
What's in the box
Vocaster Two audio interface

USB-C to USB-A cable