Erik Nilsson Employs Focusrite RedNet Interfaces At L.A.'S LemonTree Studios
When Erik Nilsson opened LemonTree Studios in downtown Los Angeles, his goal was to offer fellow songwriters, producers and mixers reasonably priced yet well-constructed, acoustically treated rooms into which they could move their own equipment. Nilsson has since expanded, opening another multi-room complex in the Highland Park district that kicks the shared studio space concept up a notch, adding a live room that any tenant can tap into through the facility's Dante® network and Focusrite RedNet audio interfaces.
When Nilsson, a Los Angeles-based musician, composer, engineer and location sound mixer, went looking for a small production space to call his own in 2004, he discovered that his options were limited. He could pay for expensive commercial studio time, rent a room in a noisy rehearsal complex with little soundproofing, or move into an existing studio where his overhead would include a tracking space that he would rarely need. Inspired by the shared economy idea, he leased a building in downtown L.A.'s Arts District and built it out as a seven-studio rental complex.
LemonTree Studios was so successful that Nilsson, who is originally from Minnesota and has been in L.A. for about 20 years, eventually rented every room, leaving no space for himself. So he opened another facility in the city's Highland Park district. But at this location, he decided to expand his concept. "I knew that I wanted to have a live room and I knew that I wanted to try out this new thing called Dante," says Nilsson, who was familiar with the audio-over-IP network protocol through his work in broadcast television.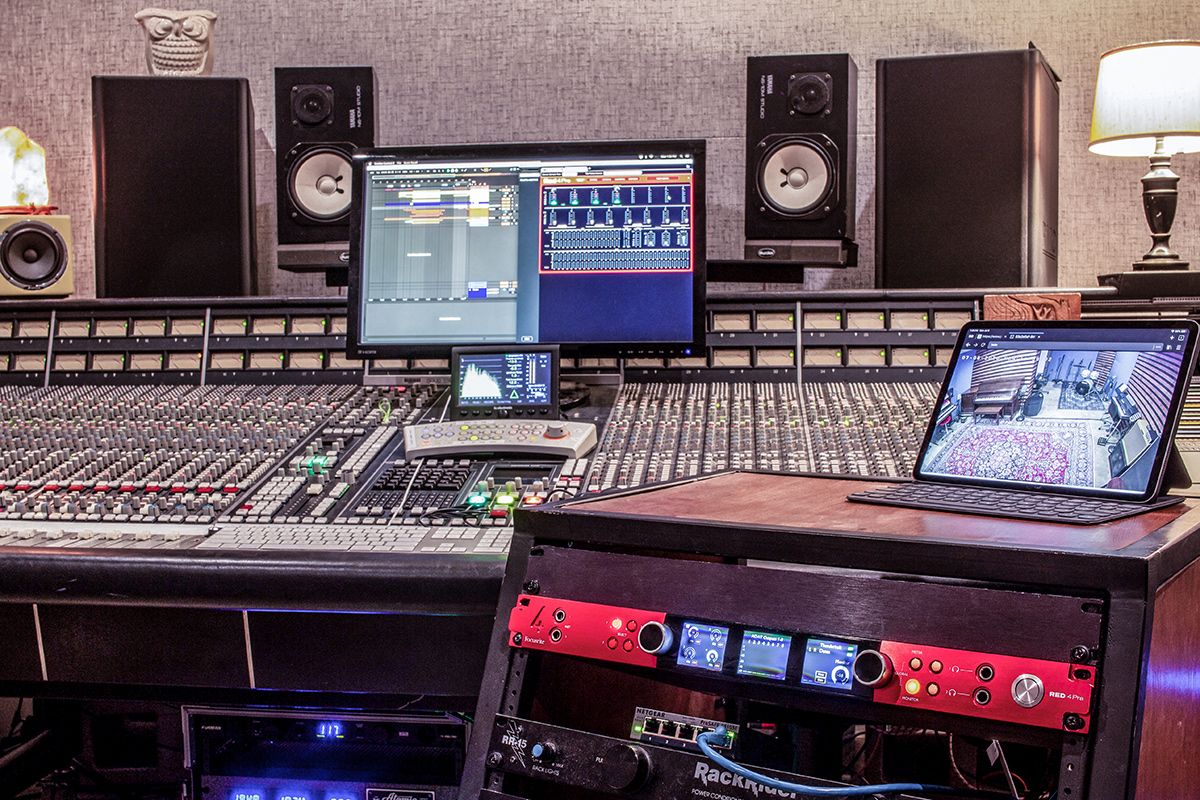 Working with Vintage King's audio consultant, product specialist and system integrator Frank Verschuuren, Nilsson networked the 13 rental rooms — each with double-wall construction and floated from adjacent rooms — to a 400-sq.-ft. shared live space. "I was brought in at an early stage when Erik was trying to integrate one live room with about 12 studio control rooms," stated Frank Verschuuren. "We were trying to figure out the best and easiest way of integrating the one live room with all the other rooms, and the Dante workflow came up. With that in mind, I designed work and signal flow of the system. We came up with the idea of setting up a 'floater' Focusrite Red4 Pre that the various rooms could use as their mainframe I/O on their recording system. All that was necessary was to plug the Red4 Pre into a network port in the room to connect to the live room. With a preset file for Dante routing and RedNet Control, it made it an easy, almost plug-and-play scenario for anyone to use."
A rack in the live room houses two Focusrite RedNet 4 units (eight-channel remote-controlled pre's), plus a Red 8Pre 64-In / 64-Out through Thunderbolt™ 2 or Pro Tools | HD™ compatible audio interface, which offers an additional eight mic preamps as well as line-level connectivity, supporting a total of 32 recording channels. A portable rack is then rolled into the studio of the tenant who has booked time in the live room that contains the floater Red 4Pre 58-In / 64-Out Thunderbolt™ 2 or Pro Tools | HD™ compatible audio interface, enabling access to the Dante stream from the live room while also locally providing four mic preamps and 16 line inputs. The rack also contains a RedNet X2P 2x2 Dante™ audio interface for communication with the artist and a laptop.
"I choose Focusrite RedNet because it's incredibly easy to integrate and it's very flexible, solid and reliable. Plus, it sure beats pulling copper cable through the ceiling and the walls to ultimately get to the same results with just using a single network cable," stated Verschuuren. He continues, "There are endless routing options using minimal cabling and without any signal degradation. Because of these options, I am employing Focusrite RedNet interfaces in many of my system designs and workflows nowadays — it's what I prefer using. Either in a post-production facility or a music studio, or even in a home recording scenario."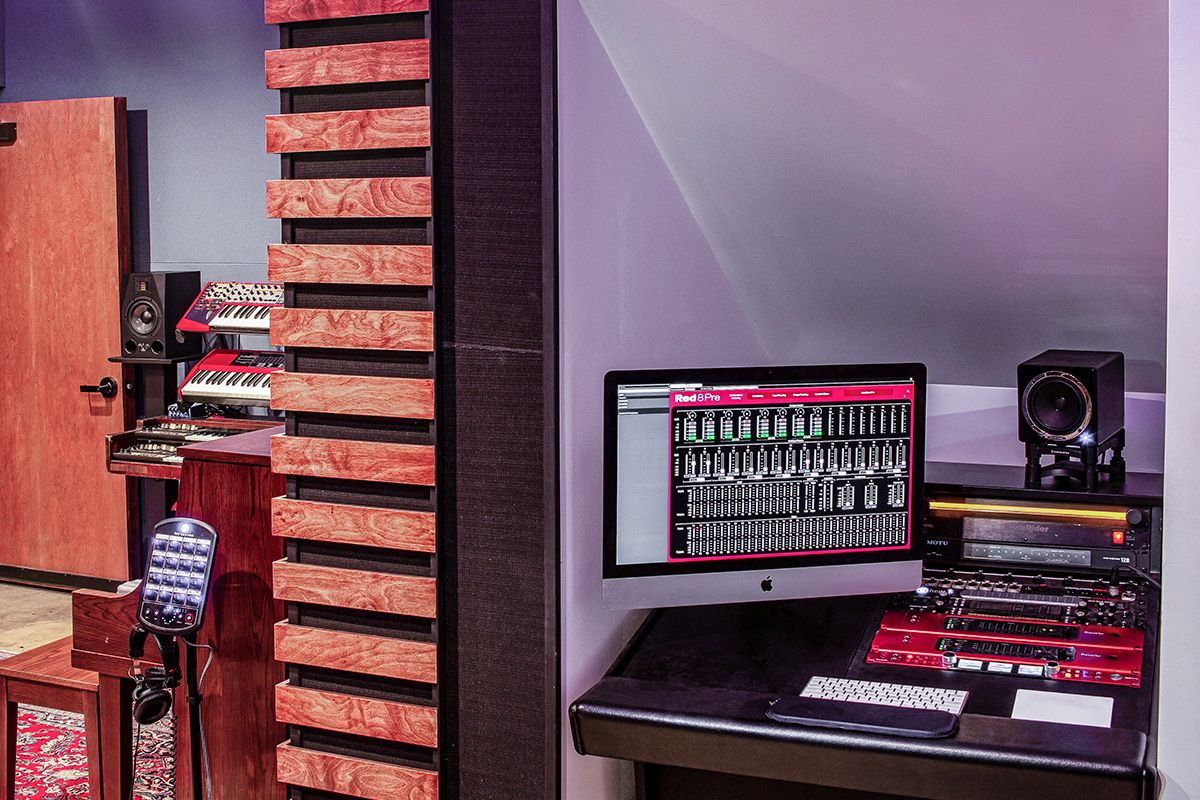 "You can record up to 32 Focusrite channels from the live room using our floating Red 4Pre in any studio," Nilsson elaborates. "Or you can reamp in the live room with the Red 4Pre from any studio to the Red 8Pre line out/mic in. Or track on the local iMac or a personal laptop with the Red 8Pre and RedNet in the live room. Or use any lunchbox or vintage front-end by using line-in on the Red 8Pre in the live room while recording from your studio with the Red 4Pre. I believe that LemonTree Studios represents a new approach to the layout of a studio facility – highly modular, where every individual room can operate independently as a production and/or mixing room, or they can seamlessly communicate with each other as part of a larger unified working environment. I believe that RedNet helps make this possible."
In addition to the rack of Focusrite equipment, the live room is also equipped with a Yamaha upright piano, a Wurlitzer 100 electric piano, a Korg BX-3 organ with Leslie 145 and various Nord synths. Ampeg, Victoria and Aguilar instrument amps are available along with Ampeg and Bag End cabinets. The mic locker includes AKG, Shure and Telefunken models.
The Dante-networked Focusrite RedNet setup offers LemonTree Studios tenants plenty of bang for the buck, Nilsson believes. "The system saves the tenant money, because they only have to rent the live room and second studios as ISOs on tracking days. They don't have to pay for expensive square-footage that sits empty when they're mixing or doing light overdubs in their personal studio. Yet they still get the benefit of live tracking when they need it. Tenants can easily book the live room, roll in the Red 4Pre, plug it in and quickly and efficiently start tracking. It's really just plug-and-play, making every studio a control room."
As a business owner, the design and installation of the Dante-enabled Focusrite system made sense financially, he continues. "For LemonTree, by having just one live room and only having to wire up the studios the one time with Cat 6 cable, it cut the cost of the installation. And there are no mic panels and no mic panel wiring. So there were extensive time and money savings on the buildout. LemonTree also benefits by widening the type of tenants we can attract, keeping them as tenants longer and helping them grow into more live tracking."
The setup has been such a hit that some tenants have invested in their own Focusrite equipment, Nilsson reports. "Some of the tenants have become both comfortable enough with Dante and love the Focusrite stuff so much that they have purchased their own unit. They're already wired up and ready to go, so all they need to do is just book the time. Their efficiency increases because they don't need to go to a different studio and rent time. They're able to scale up as they need to and scale back down when they don't. It has allowed them to expand their offerings and has increased the value of their music, because they're using real musicians and players."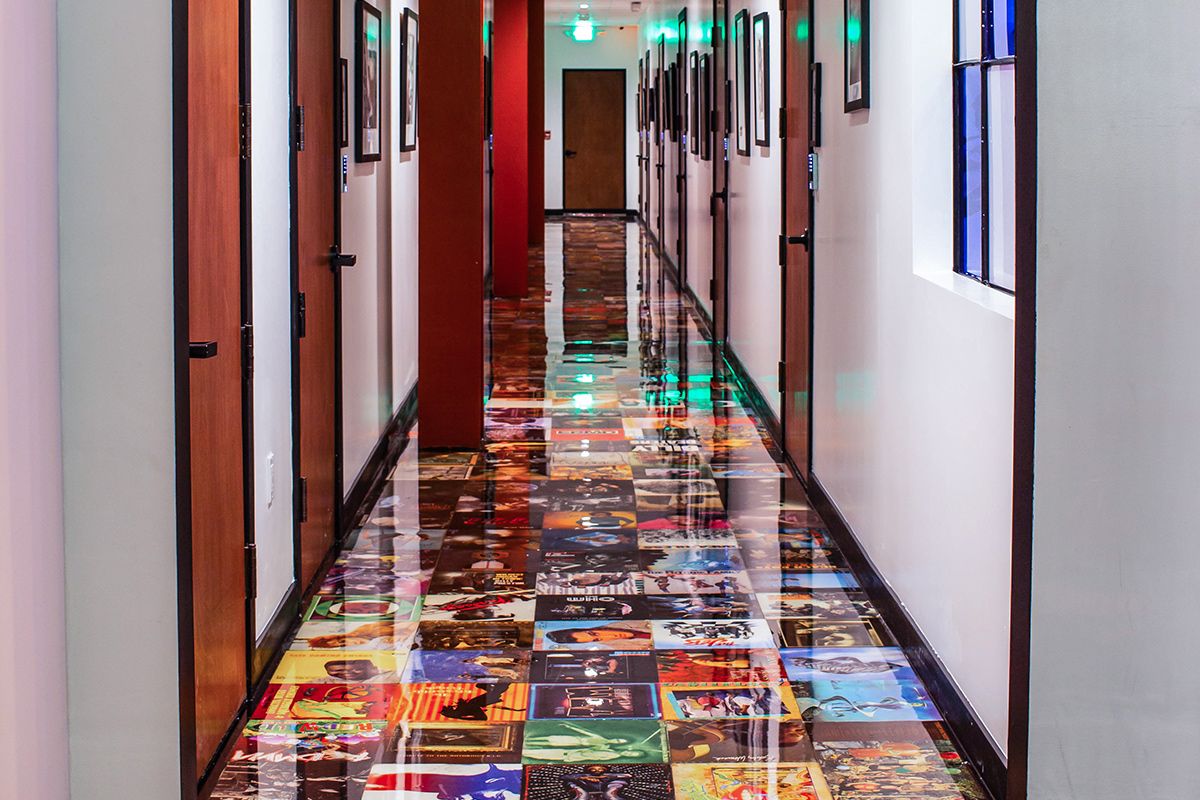 There has been no shortage of talent working in LemonTree's rooms. Lady Gaga, Justin Beiber and Skrillex have all worked on projects at one location or the other, and tenants include some of the talent behind artists such as Rihanna, Ariana Grande, Camila Cabello, Post Malone, Katy Perry, Mark Ronson, Kylie Monigue, Charli XCX , Yeah Yeah Yeahs, Duran Duran, Jennifer Lopez, Mark Anthony and numerous others. Adam Harr's Blue Oak Mastering room is located at the Highland Park location.
One tenant, producer and engineer Ed Donnelly, known for his work with the Avett Brothers and Willie Nelson, plans to take advantage of the live room on his current project with the band Shameless. "Due to social distancing requirements and wanting to accommodate the client, the vocalist will be alone in the live room and Ed will track and engineer from his studio/control room," says Nilsson, "and have the producer in another studio listening to the session with their own video feed and talkback."
Although coping with the current coronavirus pandemic was not in his initial vision for the facility, having a separate room for vocal recording offers obvious benefits, as Nilsson points out: "Some people want to record vocals in their room, some people want to record vocals in a live room, but with this solution, they have more options for themselves and their clients' health."