Focusrite Awards Tileyard Education MA Student With Bursary
Tileyard Education is a postgraduate and professional training facility that houses a world-class recording studio, tech lab, production and songwriting rooms and a lecture space. Located at Tileyard London, it forms part of a creative hub in the heart of the city, with a diverse community of artists, independent creatives, entrepreneurs and businesses.
Abi aka VNRBL, winner of the Focusrite 2020 music education bursary, has been studying a Commercial Music Producer MA course at Tileyard over the past year. Awarded with one of our Clarett 4Pre USBs, and an SL MkIII, Launchpad X, and a Bass Station II from Novation, we caught up with Abi to find out what's next for her as an artist, her route into music production and how she works through her creative process.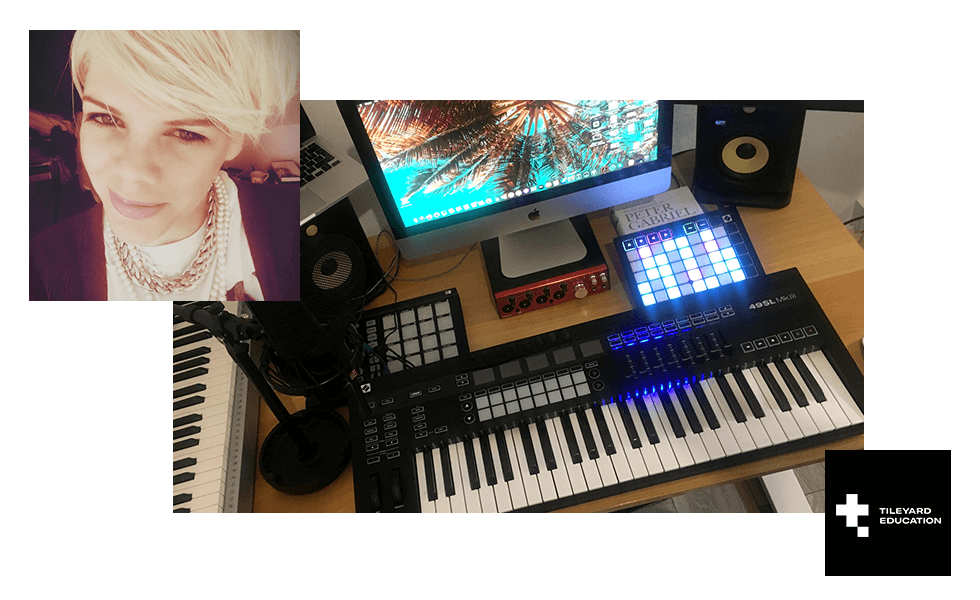 Can you tell us a little about yourself and why you wanted to study the commercial music producer masters at Tileyard Education?
I'm a producer, singer-songwriter and drummer from a friendly beach town in Western Australia called Perth. A few years ago, I moved to London to pursue a career in music and decided to take my production to a more professional level — I knew I could do that at Tileyard. I realised that being around likeminded and ambitious music producers would help keep me motivated and achieve my goals.
How long have you been making music?
Back in Perth I had been experimenting making demos in Logic, so I was familiar with using a DAW and working with loops. I've been producing full length tracks for around four years now. I've been lucky to have some amazing producers as friends to help mentor and encourage me along the way. I've always kept this mindset of 'if I work on this every day, I'm going to improve'. It's nice to hear the progress I've made when I listen back to some of my first tracks.
What was it that first made you want to produce music?
I grew up being musical. I used to get hold of my older teenage sister's CDs to listen to. At the age of nine, my music teacher told me I had talent and suggested to my parents that I should start taking drum lessons. Soon after, I naturally picked up bass, piano, guitar — if there was an instrument around, I would find it and start jamming. Learning instruments at a young age gave me a strong foundation for music which I'm really grateful for.
As a singer/songwriter in London, I spent a lot of time with producers and asking lots of questions. I came to the point where I thought, I could do this. The producers encouraged me to start and gave me loads of tips and feedback on my tracks. They also thought it was great that I was an aspiring female producer who was enthusiastic as they were.
What challenges do you face in your creative process and how do you overcome them?
My greatest challenge is also my greatest strength: managing my emotions. I seem to feel everything so deeply whether it's positive or negative. It feels overwhelming sometimes and, like a lot of artists, I can find it hard to keep motivated. I'm getting better at separating the technical side of me from the creative side. Having a daily routine that I always stick to really helps. I use my emotions when it's time to do the creative stuff where it's useful, like songwriting. I also try to live a healthy lifestyle and eat well. I also love boxing and want to get back into that. It's great because it's a full-on work out and teaches you how to control your emotions by staying calm.
Who are your greatest inspirations?
Peter Gabriel immediately comes to mind. I have many musical inspirations, but he's someone I've looked up to a lot over the past five years. He not only inspires me from an artist and a producer perspective, but also I'm drawn to his character and integrity. Not many people would believe this but I'm really shy and he is too. He often talks about how he uses masks and costumes on stage to help him perform as he naturally quite introverted. He's a seriously empowering guy and I really hope to meet him some time soon. In terms of my current producers that I really like are DJ Snake, Clean Bandit, Zedd and of course Max Martin.
Talk us through your creative and recording process.
Whenever I feel a strong emotion, I grab it and then work with that feeling. I'll usually get a hook line in my head first, and just start singing it around and playing with a melody. From there anything could happen. Sometimes I'll find one sample or sound that inspires me and work a song around it. Other times I'll look towards the piano or guitar and find the chords first. It largely depends on how I feel and what kind of mood I'm in. I don't have one way of doing anything, I'd get too bored.
How would you describe your current sound?
My influences are wide and diverse, but my current sound draws from tropical house and afro beat. Its groove based with energy but also has a laid-back feel at the same time. I love London and consider it home now, but Australia is still close to my heart. Memories of hanging out with my friends at the beach, swimming with our clothes on and coming home covered in sand is influencing the way I'm producing at moment, I want to recreate those memories in my music.
Why Tileyard Education?
I had heard about Tileyard from my producer friends and I could see it had a magical kind of buzz. I was drawn into Tileyard's community of artists and creatives, all working together to achieve the same goal. It's the first time I've found somewhere that I felt I could get behind the vision and that's what makes Tileyard special: you get to be part of something bigger than you.
What do you hope to be doing in three years' time?
I want to be performing my songs at festivals all over the world. It's my dream to live part-time in New York and part-time in London with regular visits back to Australia, so hopefully that vision will become reality within three years. Other than that, I want to be working with other talented and inspiring artists and songwriters from my own fully functioning dream studio — which would ideally be over a small lake like Peter Gabriel's Real World Studios.
Equipped with her new Focusrite and Novation gear, we're looking forward to hearing Abi's productions and working more closely with her over the next 12 months. Helping artists turn their ideas into reality and opening doors for them is a huge passion for us; we're really proud we can do that with Tileyard Education and Abi.
Tileyard Education offer a huge range of post-graduate, online and short courses, from design to publishing, songwriting and recording techniques. To find out more information about Tileyard education and hear more about Abi's experience with her course, visit: https://tileyardeducation.co.uk/news/focusrite-supports-tileyard-education-ma-student-vnrbl-with-bursary/.
Be the first to hear about updates from Tileyard Education and Abi:
Follow Tileyard Education
Follow VNRBL