Introducing the new Scarlett Solo, 2i2, and 4i4.
The Original. Remastered.
The music maker's favourite interface just took a giant leap forward.
Incredible sounding preamps that capture every detail. A colossal 120dB dynamic range. High-end converters from our flagship RedNet range. Re-engineered Air Mode with Presence and Harmonic Drive for big console sound. Auto Gain and Clip Safe to make sure every take is a keeper. A custom-designed headphone amp for the best playback you've ever heard. And hit-making software from the biggest names in the business.
Get ready for a giant leap in recording quality.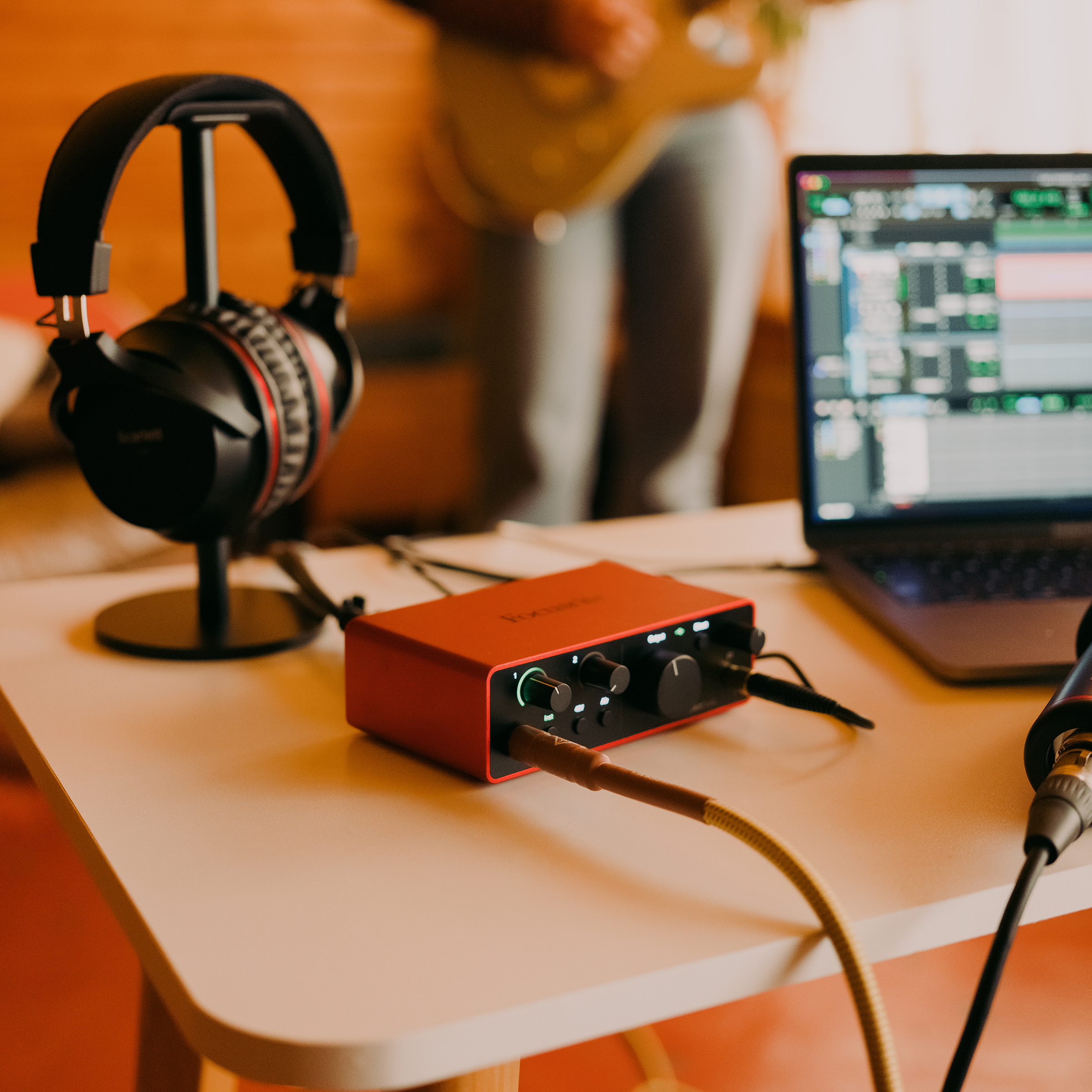 Remote-controlled 4th Generation preamps*
Ready for the softest vocal or the loudest amp, the high-detail, ultra-low-noise 4th Gen preamp has a massive 69dB gain range to capture every part of the performance, and make every mic sound great.
Studio-quality Hi-Z and line inputs
Use Hi-Z instrument inputs, like you'd find on an amp, and make guitars sound great for DI's and amp sims. You've also got super-high-quality line inputs to capture all the character of your synths and keys.
Think you've heard it all? With Scarlett you will.
When you hit the red button, you're recording with professional-grade, 192kHz, 24-bit converters from our flagship RedNet interfaces – as found in countless high-end studios around the world. Build up your songs, layer after layer, and never worry about noise. Squeeze every last drop of detail out of your recordings without sacrificing sound quality.
Re-engineered Air mode for big console sound
For standout lead vocal and instrument tracks, Scarlett's re-engineered Air mode takes your sound's unique character and brings it to the front of the mix, adding high-end Presence and rich Harmonic Drive, just like a classic console in a big studio. Trust us, you'll never want to record without it.
Auto Gain sets your levels*
Auto Gain sets your levels for you – in seconds. Hit the button and play or sing for ten seconds, Scarlett will set the perfect level for whatever you're recording.
Clip Safe makes sure every take is a keeper*
While you're performing, Clip Safe is constantly listening. Checking your levels up to 96,000 times a second, Clip Safe will automatically tweak the gain if you're at risk of clipping, so you can focus on the music, knowing that the recording is in safe hands.
Custom-designed headphone amp for the loudest, clearest playback
A custom-designed headphone amp and huge dynamic range set the stage for the best playback you've ever heard from Scarlett. Drive your headphones louder and clearer than before. You can switch between your headphones and monitors with ease when you're recording, mixing, or playing back audio, thanks to independent controls.
Stay in control
Focusrite Control 2 is a brand-new app for your Scarlett to make session setup painless, so you can focus on what matters — capturing great performances. Available for PC and Mac, take remote control of Scarlett's preamps, Auto Gain, Clip Safe, and Air when your interface is out of reach. With 4i4, you can also create and customise headphone mixes using the flexible mixer.
All the software you need to make a hit record
Once you've got started with the included Pro Tools Artist or Ableton Live Lite recording software, the Hitmaker Expansion bundle has everything you need to record, mix, master and release your music, with an unbeatable range of record-making studio tools from the biggest names in the business.
The complete Studio – in the box
For the best sound straight away, Scarlett Solo Studio and Scarlett 2i2 Studio include our CM25 MkIII studio condenser mic and SH-450 closed-back headphones.
The CM25 MkIII sounds great on everything, but you'll love how it sounds on vocals and guitars thanks to its bright and detailed character.
With the SH-450 we've designed our best-sounding headphones ever. The plush pads and a soft-touch headband design let you keep you focused, not fatigued, while you record, mix and master.
Not got a mic stand yet? No problem, we've included a rather clever cardboard stand so you can get started right away.
Ready when you are
A personalised Easy Start, 24/7/365 Support, and a three-year warranty all make sure Scarlett is ready whenever you are. Plug in your interface, go through Easy Start, and you'll be ready to go in no time. If you have a query, our support team are on hand across the world to help. And our warranty is there in the future if It's needed.
*2i2 and 4i4
Scarlett Solo
Scarlett Solo is ideal for singer-songwriters. With one mic preamp and super low-noise converters, it provides stunning audio quality in a compact design perfect for home studios and on-the-go recording.
Scarlett 2i2
Scarlett 2i2 offers two mic preamps for recording vocals, guitars, and more. The iconic 2-in/2-out interface delivers professional studio quality in a portable package. With powerful features like Auto Gain and Air mode, the 2i2 empowers you to make radio-ready recordings anywhere.
Scarlett 4i4

Scarlett 4i4 provides four inputs and outputs for flexibility to record mics, instruments, synths, and more. Built-in MIDI I/O allows easy integration with your controllers and keyboards. The 4i4 brings professional studio quality within reach for all the home musicians out there.

Scarlett Solo and 2i2 Studio

The Studio packs provide an all-in-one solution for high quality recording. Including either a Scarlett Solo or 2i2 interface, it comes packed with the CM25 MkIII studio condenser mic and SH-650 closed-back headphones. These bundles have everything you need to start recording studio-quality vocals and acoustic instruments right out of the box.
Explore the range.

From singer-songwriters to multi-instrumentalists, the new generation of Scarlett interfaces have you covered.