RedNet Offers A Future-Proof Setup For Fellowship Church Knoxville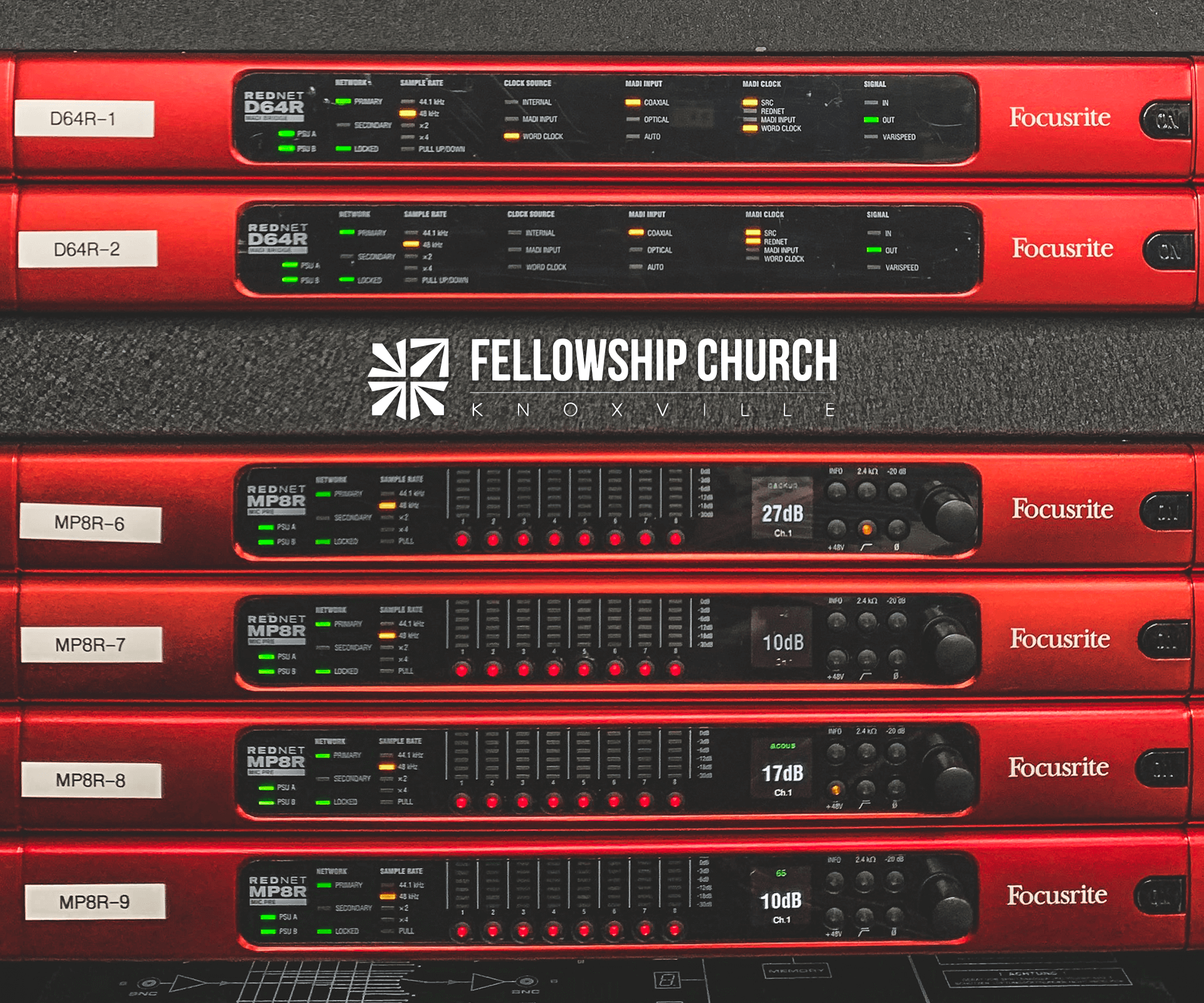 Fellowship Church Knoxville, a four-campus church in east Tennessee, was an early adopter of AoIP technology. The opportunity came for an upgrade to the system, which its main campus in Knoxville, TN, got over the summer with the addition of several components from Focusrite's RedNet range of Dante™-networked audio converters and interfaces, including seven RedNet MP8R eight-channel mic pre and A/D converters and two RedNet D64R 64-channel MADI bridges.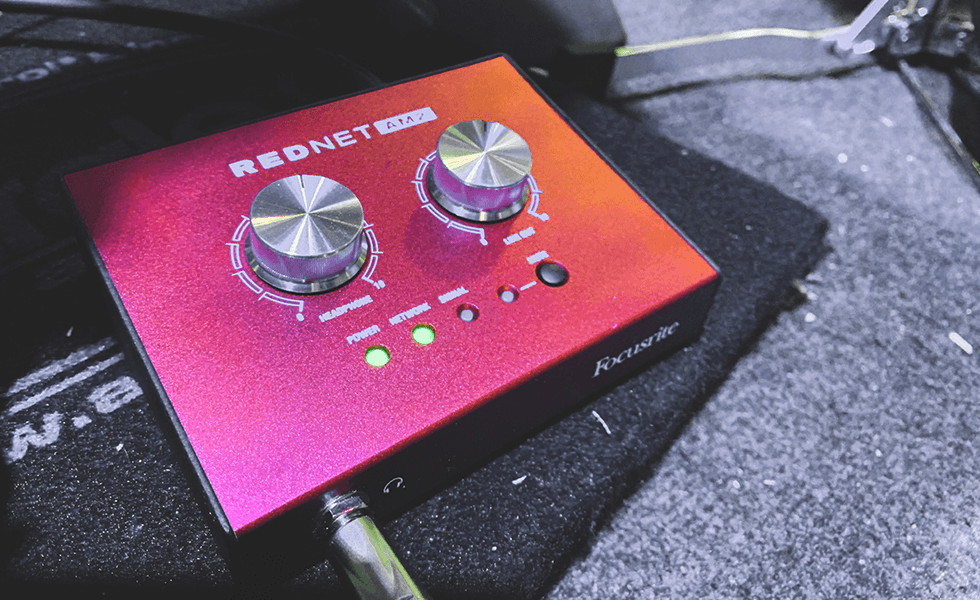 "We used the RedNet MP8R and D64R to completely rebuild the front end of the church's audio system," explains Phil Bledsoe,Integration Manager for The Production Source, the Knoxville-based AV integration firm that did the installation. "This church is incredibly savvy when it comes to technology — they did all of their own research when it came to choosing what to upgrade their audio network with — and they decided that RedNet was the way to go." Bledsoe says the RedNet interfaces offered a high degree of flexibility for their current and future needs: the D64R provide sample I/O management for the church's existing DiGiCo SD8 consoles, but with their Dante compatibility they will give the church a much wider range of choices when they're ready to upgrade other components of the sound system."RedNet and Dante will work with any digital products on the market, and the RedNet units are totally portable, so they can bring audio to any part of the building that already has a network point," he adds.
Scott Bradford, Fellowship Church Knoxville's Tech Director, and Robert Allen, the church's Head of Audio, had narrowed their upgrade solution search down to three brands, but given their experience with audio networking, they quickly recognized the Dante-enabled RedNet devices as the most effective choice. "Our research process took almost a year — the old system was no longer being supported by the manufacturer but we had time, so this was not a panic situation with a key component melting down on us,"Bradford explains. "We could really get deep into how RedNet could help us."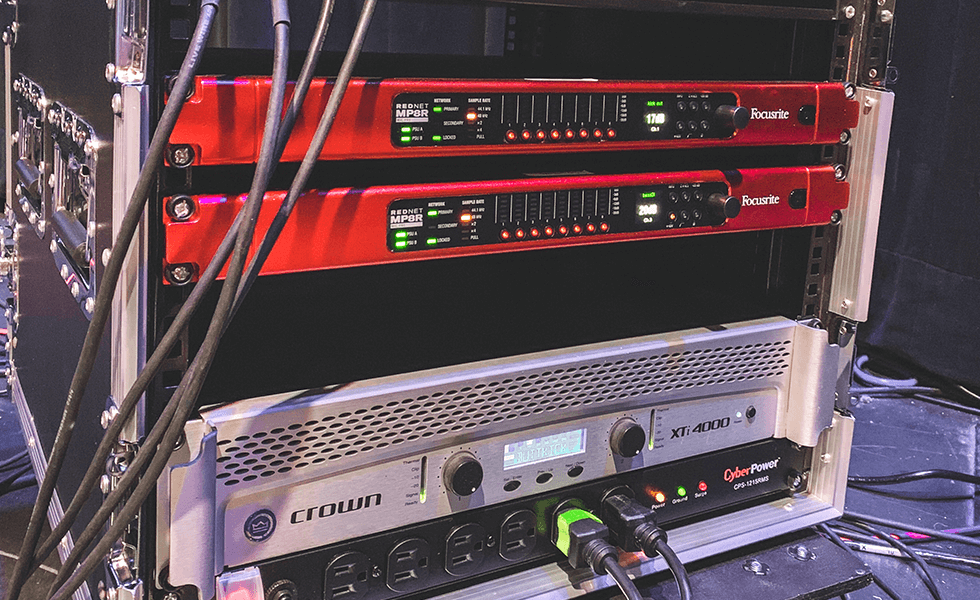 Both Bradford and Allen echo Bledsoe's assessments of RedNet's benefits and advantages, and add more of their own. "We have to find creative ways to keep the volume down, such as by bringing things like guitarcabinets offstage and isolating them, but don't have a typical backstage,"Bradford explains. "But with the D64R, we can drop 16 channels here or 16 channels there to mic things offstage. That's a huge help."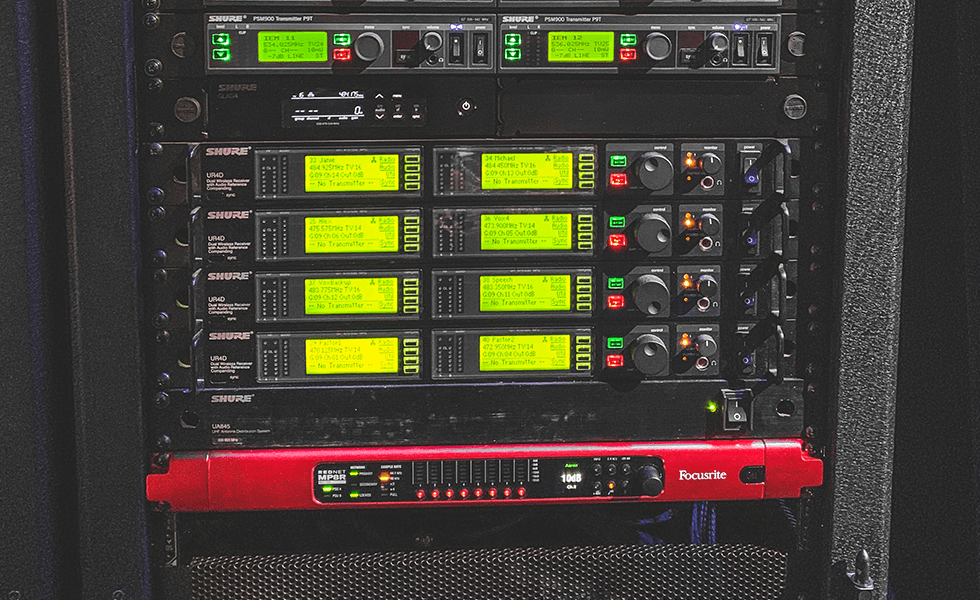 Allen takes that a step further, noting how he can place inputs all over the entire stage or even in a different part of the building. "The Cat-5 infrastructure was already in place, but having RedNet on it really streamlines and supercharges it," he says. Dante also cuts down on the time needed to reconfigure the sound system for different productions. "We just began a new evening service here and the music has its similarities and its differences with the music for services earlier in the day," says Bradford."But Robert can have the system reconfigured for a new rehearsal in less than 30 minutes without having to repatch everything. It's a huge time and effort saver." And, adds Allen, the presets for the Focusrite preamps on the MP8R save even more time. "You're not spending the time, and annoyance for the band,doing another line check on the same inputs," he says. Bledsoe says integrating the RedNet units into the church's network was as simple and straightforward as it is for the staff to use them. "Between the flexibility and the ease of use,"he says, "I can see why they wanted to go RedNet."