The Focusrite Group announces the acquisition of Martin Audio Ltd
Focusrite plc., which comprises the Focusrite, Focusrite Pro, ADAM Audio, Novation and Ampify Music brands, today announced the acquisition of LDC-backed Martin Audio Ltd and associated companies, the British, Buckinghamshire-based designer and manufacturer of high-performance loudspeaker systems for the touring and installation markets.
This acquisition follows hot on the heels of Berlin-based studio loudspeaker manufacturer ADAM Audio, but has been a consideration for Focusrite Founder and Chairman Phil Dudderidge for years, who comments:
"I have known Martin Audio since its beginnings in Covent Garden in 1971. Founder Dave Martin and I became close friends in 1989 when I served as an advisor to him and non-executive chairman for a year or so as we prepared the company for sale to Tannoy Goodman International plc (TGI) in 1990. Martin Audio is a close neighbour to Focusrite Audio Engineering in High Wycombe and their current management recognised that Focusrite plc was the obvious trade candidate to acquire the business from its private equity and management ownership structure. My conviction as to the outstanding performance of the Martin MLA system was cemented at BST Hyde Park concerts in recent years, notably Tom Petty in 2017 and Eric Clapton in 2018."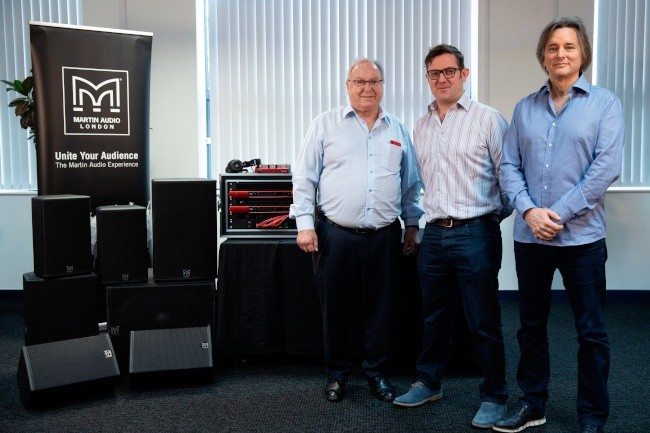 (Left to Right) Focusrite founder and chairman, Philip Dudderidge, Martin Audio Managing Director, Dominic Harter, and Focusrite CEO, Tim Carroll
The Focusrite Group's criteria for acquisitions remain both strict and targeted, as Tim Carroll, Focusrite CEO states;
"The acquisition of Martin Audio is a strong demonstration of our strategic aim to expand into new markets. Martin Audio is also an established brand with solid financials that instantly add value. More importantly though, they're culturally aligned with a clear part to play in our unfolding narrative. The Focusrite Group is, first and foremost, a professional music technology company, focused on enriching lives through music by removing barriers to creativity; from that first spark of musical inspiration, to delivering an emotionally charged performance on stage. Martin Audio completes that journey, uniting the audience by creating the ultimate live sound experience. The Martin Audio family share our hunger to innovate and our passion as music and sound enthusiasts. That we're just a stone's throw away will only further help unite us in achieving our common goal."
Martin Audio will continue to operate from their headquarter offices and factory in High Wycombe, England, under the leadership of Managing Director Dominic Harter, who looks forward to an exciting future, leading Martin Audio as part of the Focusrite Group;
"Martin Audio has been uniting audiences through great sound for almost five decades. Our continued success has been down to a clear, well-executed strategy with over sixty new products launched over the last four years and double-digit growth each year. In Focusrite we have an industry neighbour of the finest pedigree; a global leader in its own right. Their culture mirrors our own and, getting to know the team, I sense a strong similarity with the deep-rooted values of our own Martin Audio Family. Focusrite are the perfect partner to help Martin Audio continue the innovations that have driven its success. So it is with great pride and enthusiasm that we take this next step; a momentous occasion as the Martin Audio brand enters its 50th year. Working with Tim, Phil and the Focusrite team, I look forward to seeing all our staff and the wider family grow together, continuing to bring our unique optimised sonic experience to more and more audiences across the globe."
About Martin Audio Ltd. and the Focusrite Group
Focusrite plc (known as 'the Focusrite Group') is a global music and audio products group that develops and markets proprietary hardware and software products. Used by recording professionals and musicians alike, its solutions facilitate the high-quality production of recorded and live sound. The Focusrite Group trades under six established brands: Focusrite, Focusrite Pro, Novation, Ampify, ADAM Audio and now Martin Audio.
With a high-quality reputation and a rich heritage spanning decades, its brands are category leaders in the music-making and audio recording industries. Focusrite and Focusrite Pro offer audio interfaces and other products for recording musicians, producers and professional audio facilities. Novation and Ampify products are used in the creation of electronic music, from synthesisers and grooveboxes to industry-shaping controllers and inspirational music-making apps. ADAM Audio studio monitors have earned a worldwide reputation based on technological innovation in the field of studio loudspeaker technology.
Founded in 1971, Martin Audio designs and manufactures performance ready systems across the spectrum of sound reinforcement applications, with a highly developed portfolio of products to meet the exacting demands of a host of different markets. Renowned for integrity in design, technical excellence and the longevity of its products, Martin Audio systems are designed with in-built sound qualities artists can rely on to faithfully reproduce their performance to every corner of the auditorium.
The Focusrite Group has a global customer base with a distribution network covering approximately 160 territories. Both Focusrite and Martin Audio Ltd are headquartered in close proximity to each other, in High Wycombe, UK. Focusrite has marketing offices in Los Angeles and Hong Kong. ADAM Audio has offices in Berlin, Nashville and Dongguan. Martin Audio has a US subsidiary, based in Los Angeles. Focusrite plc is traded on the AIM market, London Stock Exchange.