The Guitar Show 2022
We're returning to The Guitar Show 2022 at Birmingham's New Bingley Hall for another round of Focusrite Guitar Masterclasses.
Join us at The Guitar Show at the Focusrite stand (H7) in Birmingham, and get hands-on with the perfect home recording studio setup. We'll be showcasing our guitarist-friendly Scarlett 3rd Generation and Clarett+ USB interfaces. Also on show is the Scarlett Solo and Scarlett 2i2 Studio Packs, the essential tools for recording your music, includes a microphone, headphones, and all the cables you need to get started right away.
We've invited a panel of pro players to share their knowledge in a series of workshops, which will feature topics ranging from different ways to work with guitarists when recording, re-amping and re-cabbing, moving the guitar forward into the future, and capturing your sound in the studio and at home.
The Guitar Show runs from May 7th until May 8th at The New Bingley Hall, Birmingham. Tickets are available now, priced £15.00 for adults and £10.00 for children aged 8-16. See you there!
Saturday and Sunday: 11am
AZIZ IBRAHIM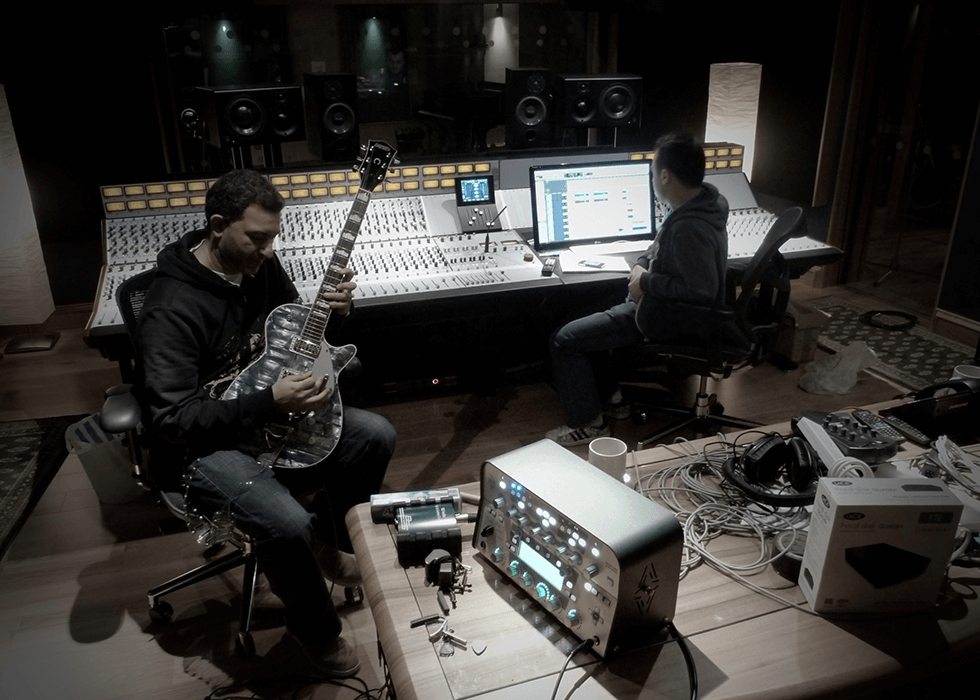 Aziz Ibrahim is best known as a guitarist with The Stone Roses then Ian Brown, co-writing songs such as "My Star", "Corpses in Their Mouths", "Longsight M13", "One Way Ticket to Paradise" and numerous other tracks. Aziz has also played or recorded with a wide range of artists including Simply Red, Paul Weller, Manic St Preachers, Steven Wilson, Asia and Marillion's Steve Hogarth, and Rebel MC.
In addition to scoring the music for free-style 3D shooter PlayStation game "Eliminator", Aziz has been involved in a number of Arts Council England and other socially engaged projects. He recently composed a South Asian symphony for the Manchester Camerata Orchestra selling out HOME's Theatre 1, further demonstrating the value and versatility of his natural gifts.
Saturday and Sunday: 1pm
Chris Buck
In 2021, Chris found himself atop the iTunes album rock charts with his new band Cardinal Black, having been voted 'Best New Guitarist', 'Best Blues Guitarist' and 'Best Pop Guitarist' in successive years by the readers of Guitarist Magazine.
Despite being known for his work with Fender, Yamaha, Ernie Ball and Line 6; a hugely popular YouTube series with in excess of 20 million views and guitar greats being quick to express their admiration of Chris's playing - ("this guy's an awesome guitar player!" - Slash), Chris insists that he doesn't crave the spotlight.
Saturday and Sunday: 3pm
MIKE EXETER
Mike is a UK based Producer, Musician and Engineer who travels extensively to bring artists' ideas to reality. He works with the artist from an early stage to make sure the songs and performances are in great shape before capturing them in the studio. Mike has worked with a wealth producers and artists including Rick Rubin, Eddie Kramer, Tony Iommi, Jean Beauvoir, Jeff Beck, Judas Priest, Black Sabbath, Christina Aguilera, UB40, The Specials.
From the days of the "Mickey Mouse Club" for Disney, via Black Metal, Reggae and Classic Rock to the inventors of Heavy Rock and Metal, Mike has achieved international success including Recording Black Sabbath's "13" resulting in Multiple International Number ones, a Grammy win and 3 nominations.