World Revival Church Use RedNet
RedNet Case Study - Focusrite's RedNet Systems Help World Revival Church Continue Reaching Out
Thanks to its extensive streaming initiative, the World Revival Church in Kansas City, Missouri, has spread its message to hundreds of thousands of people from the far corners of the world. In its current form since 2001, the ministry of Pastor Steve and Kathy Gray has grown to comprise the World Revival Church, Libby Lane Early Childhood Center, the World Revival Network, the World Revival Church Academy and the World Revival School of Ministry. Recently helping the church keep its outreach global and its message clear is RedNet, Focusrite's flagship range of modular Ethernet-networked audio interfaces that harnesses the power of Audinate's industry standard Dante® digital audio networking system to bring studio quality sound to any modern audio application.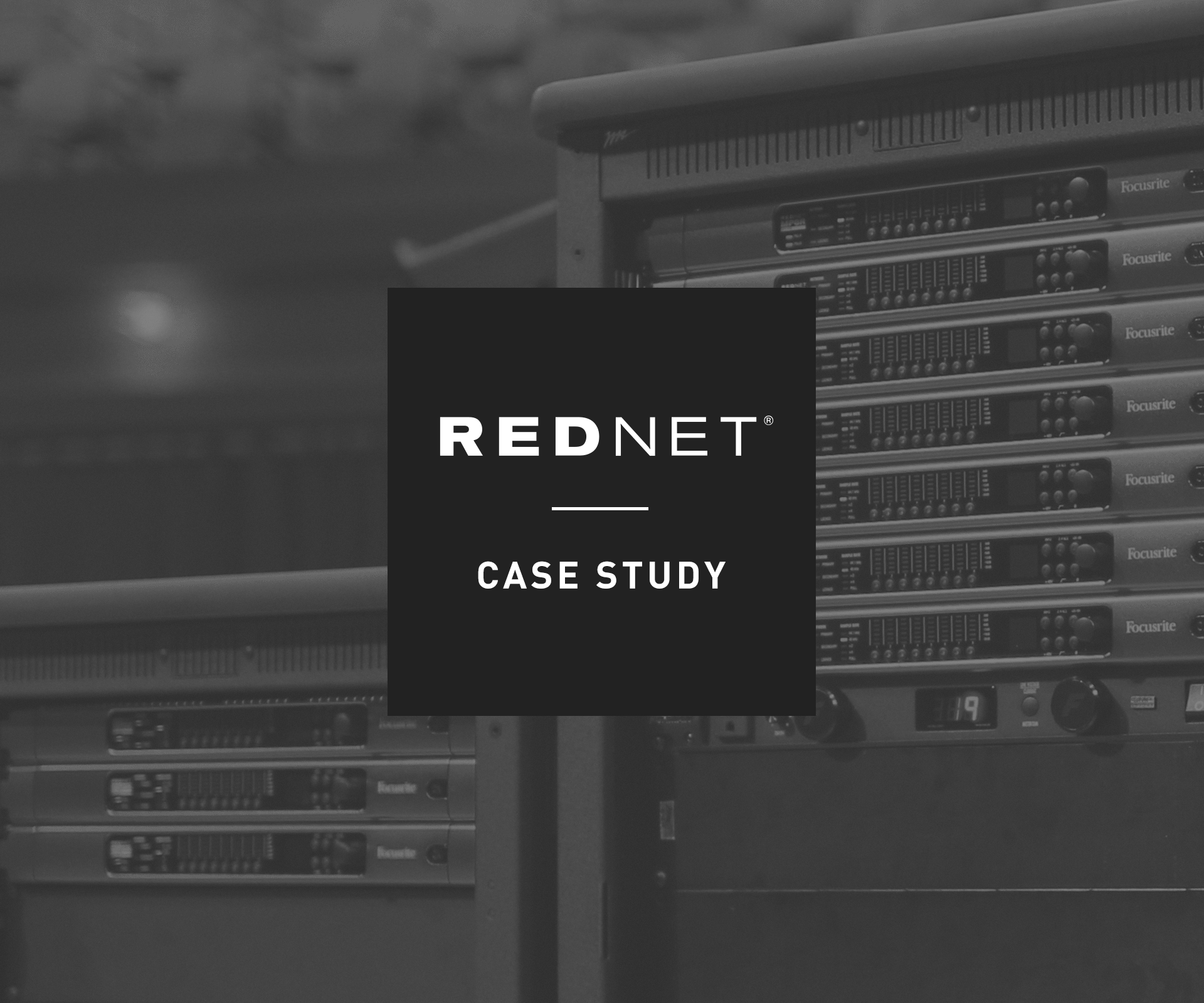 Fundamentally RedNet is an extremely scalable, near zero latency audio distribution system that can be used to expand I/O channel count, interface digital components, and/or bridge between Pro Tools|HD or MADI and the Dante audio network. RedNet systems can help anyone routing audio to streamline their workflow, is fully interoperable with any other Dante enabled products from other manufacturers and offers the company's most advanced A-D/D-A conversion to date.
C.J. Drumeller, who supervises audio and other technologies for the church has been using a pair of RedNet 5 and a RedNet 3 audio interfaces to help propagate their message, forming a fully digital high quality audio reproduction and recording system. These were added as the finishing touches to a larger audio system upgrade that in the last several months saw Drumeller and Pastor Steve Gray oversee the installation of a new RoomMatch® loudspeaker system from Bose® Professional Systems Division and a new Yamaha CL5® digital FOH console in the main sanctuary, giving the church a fully digital signal path from stage to speaker. As a forward thinking Audio Professional Drumeller recognized the Church's need for networked audio, so the choice of the Yamaha console, which includes support for the Dante networking solution, was crucial. That would allow the use of the fully Dante-enabled RedNet interfaces to be critical links in the new all-digital signal chain.
The RedNet 3 unit interfaces existing digital audio systems and components to the Dante digital audio network, with up to 32 inputs and outputs. The unit includes support for AES, S/PDIF and ADAT digital audio formats and allows the RedNet system to be synchronised to incoming signal clock or a word clock source. RedNet 3 can be used to convert 32 channels of audio and deliver it anywhere else on the Dante network at near-zero latency.
"For three years we've been using an analogue split from the FOH console to a Pro Tools® HD4 system to feed our growing streaming operation," Drumeller explains. "We first began using the RedNet 3 interfaces for the IFB (interruptible feedback) connection between churches around the world that let us hold interactive services with them – our congregation worships along with their band and they do the same with our band."
In addition to this the Church are also using two RedNet 5 units to bridge between the Dante network and their AVID® Pro Tools HD4 system. Up to six units can be connected to one Pro Tools HDX system, supporting up to 192 channels at 96KHz. RedNet 5 is fully interoperable with other Pro Tools interfaces and can be used with both older Pro Tools|HD systems and the very latest Pro Tools|HD Native or HDX systems.
"Before RedNet 5, we were using four Avid 192 I/O devices," he recalls. "Now, just a pair of RedNet 5 interfaces gives us 64 I/O, more than we need at the moment, and with the ability to increase the I/O count as needed just by adding another RedNet 5. Everything is plug and play – we just put a RedNet unit anywhere we have an Ethernet port and we're good to go," illustrating how RedNet makes any workflow easier, simpler, more effective and more flexible.
Drumeller explains he'll be able to continue using the high-end signal processors he likes so much, but instead of bringing them in via analogue tie lines as he has been doing, he plans to use Dante-enabled devices to bring them directly onto the network with RedNet 2 interfaces. RedNet 2 incorporates Focusrite's most advanced A-D / D-A convertors to date, providing 16 premium quality analogue channels in and out of the Dante network and can be located anywhere there's an Ethernet cable. "RedNet has made the workflow so much more flexible," he says. "I don't know of any other interface that do what RedNet has done for us."